This lightened-up version of the classic hot dip replaces cream cheese with beans for a delightful Hot Spinach Artichoke White Bean Dip.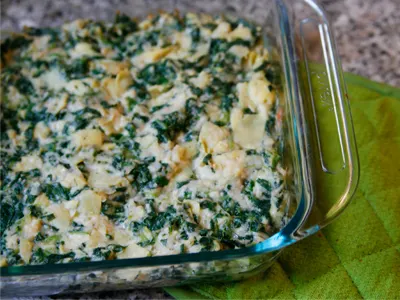 Family birthdays and Sunday dinners are sacred for our extended family. It's a time when we all get together around the table and share food, laughter and smiles. And some of the best family conversations happen as we linger before dessert, after eating delicious foods.
But our dinners (and appetizers too) aren't without some degree of restriction. To moderate our fat intake, we aim for more healthful versions of family favorites. So when I was asked to partake in the November 2011 SideCar Series, featuring Bush's Beans, on Kitchen PLAY, I knew it was a good fit. Beans are good-for-you food.
My contribution is a Hot Spinach Artichoke White Bean Dip. Like many people, my family adores the traditional hot spinach artichoke dip. The cheese! The flavor! The dipping goodness! But it's such a nutritional splurge that we almost never have it anymore.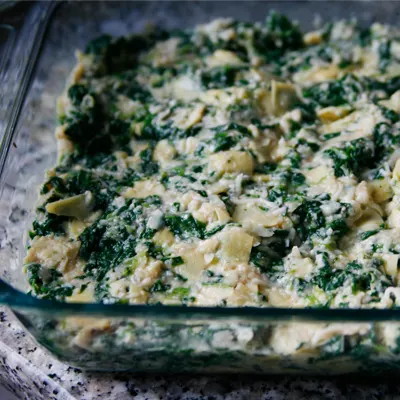 Now we can. I turned that creamy hot dip on its head, making it a lightened up, way-less-guilt dip by trading cream cheese and other creamy (read: full-fat) ingredients for white cannellini beans pureed with garlic and vegetable stock.
The artichoke dip is still fabulously creamy with a mix of Romano and mozzarella cheese, chopped artichoke hearts and spinach. Oh, and the salt and pepper — which is a necessary addition to any savory recipe.
My family shared this artichoke dip at a recent family birthday dinner. I have to admit that as everyone went in for the first taste, I held my breath a little bit. Would they like it? Would they miss the decadent ingredients? Considering how fast the dip disappeared, it definitely didn't disappoint.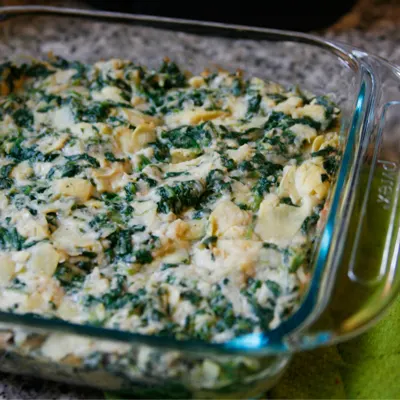 Hot Spinach Artichoke White Bean Dip
Ingredients
1 15- oz can cannellini beans, recommended: Bush's Beans
2 cloves garlic, crushed
1/4 cup vegetable stock
1 9- oz box frozen chopped spinach, prepared according to package directions and strained
1 8.5- oz can artichoke hearts, chopped
1/2 cup freshly grated Romano cheese
1/2 cup shredded mozzarella cheese or Italian cheese mix
salt and pepper, to taste
Instructions
Preheat the oven to 375 degrees.
In the bowl of a food processor, combine the cannellini beans, garlic and vegetable stock. Transfer to a large bowl and stir together with the spinach, artichoke hearts, Romano cheese and mozzarella. Season well with salt and pepper.
Transfer the mixture to an 8x8-inch square baking dish and spread out to form one even layer.
Bake for 20 minutes, until bubbly at the edges.
Serve this dip with fresh cut veggies or crispy, thicker tortilla chips.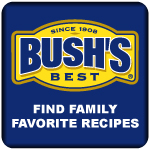 Disclosure: I was compensated by Kitchen PLAY and Bush's Beans for my time in creating this recipe and post. I was also provided with product to work with. Nonetheless, all opinions expressed are my own.