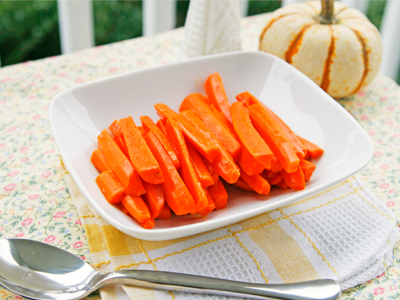 Paige, who turns four this weekend, saw me carry these carrots outside this afternoon and trailed behind. I could see her eyes peering at the plate, examining what I had. As I was styling them for the photo, she locked eyes with me and smiled sweetly … and I knew exactly what she wanted — a bite. Once all the photographs were taken and I was bringing my supplies back inside, she was quick with an offer of help.
"Would you like some?" I asked her.
And she did, skipping off to the kitchen. She ate a bunch before declaring herself full. Apparently, they are as good as they looked to her.
This is the easiest recipe for glazed carrots that I've ever made. And that was the point. I wanted a ridiculously easy recipe that I could whip up either last minute or the night before Thanksgiving. One that would be sweet, but really buttery. And one that everyone will enjoy.
The carrots are steamed until tender, which takes only 10 minutes when they are cut up like this. And because they are carrots, they can be cut days in advance and will still be perfect for cooking on Thanksgiving. Early preparation like that makes the making of Thanksgiving dinner so much easier.
Once the carrots are cooked, you toss them with a hot, bubbly mixture of butter and seedless raspberry preserves. It won't seem like enough at first — but it is. Finally, you finish them off with some salt. Then they are ready to go. It really is that easy.
What I love about these carrots is the flavor. When you bite into them, the butter-enrobed carrots burst in your mouth in a perfect dance of creamy natural sweetness. Then, once you've enjoyed every last buttery bit, you are left with the subtle, pleasant raspberry afterthought.
And with only four ingredients that you probably already have, these are a great budget-friendly addition to the holiday table (or Sunday dinner!).
Easy Buttery Glazed Carrots
Ingredients
1 lb carrots, , peeled
1 tbsp unsalted butter
1 tbsp seedless raspberry preserves
kosher salt, , to taste
Instructions
Heat a pot with about 1" of water on the stove. Set a steaming insert inside.
Meanwhile, cut the carrots into roughly 3" pieces and then quarter them. Add to the pot and cover. Steam for 10 minutes, or until tender.
Remove the carrots from the pan (I just lift the insert out). Then, in a small saucepan set over medium heat, melt the butter and preserves, whisking together until well combined and bubbly.
Combine the carrots and the butter mixture in a mixing bowl and toss well until combined. Sprinkle liberally with salt.
Serve immediately. Or store in an airtight container in the fridge and reheat before serving.