We eat a lot of fruits and vegetables here. Each week, our grocery cart is loaded with berries, bananas, peppers and so much more. And we eat it all. Bunches of asparagus are devoured at dinner. Bowls of berries are eaten nearly every morning. And sometimes, all I want is some roasted Brussels sprouts or some sliced red peppers.
But we also love sweets. As much as we love our fruits and veggies, we adore our sweets too. But if you are going to indulge, the sweets better be good. If not, what's the point?
Peanut Butter Cup Whole Wheat Cookies are really good. Worth every indulgent bite. The very second that the kids tried these cookies, they were already asking me when I would make them again. It didn't matter that they were biting into the warm cookie just oozing with peanut butter and chocolate. They wanted to make sure this wasn't going to be a one time thing.
I can't blame them.
When we took these to our Sunday dinner with our extended family, the cookies all vanished, everyone returning for seconds. And some thirds too.
Let me tell you, these are not your basic chocolate chip cookie. No way. They are better. Stuffed with mini peanut butter cups and chocolate chips, but are a sweet-a-holics dream. And they are made with whole wheat flour, not that you'll notice, so you can even say they are a bit healthier than their traditional chocolate chip cookie cousin. Score.
Now about those peanut butter cups … A few weeks ago, Shawn surprised me with a little pack of Reese's Peanut Butter Cup Minis. The bite size peanut butter cups are a little larger than chocolate chips. Total chocolate-peanut butter goodness. And the second I opened the bag and tried one, I asked "Do these come in a bigger bag? They would be awesome in cookies."
Well, they do come in a bigger bag and they are indeed awesome in cookies. I found them in the Target candy section, but they are probably available in some grocery stores too (and for the record, no one asked me to write about these Reese's cups — Reese's doesn't even know who I am).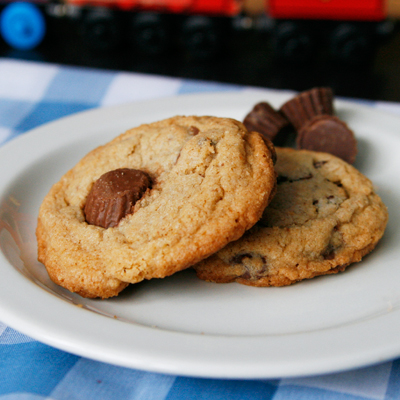 Make these this weekend. You will love them.
Peanut Butter Cup Whole Wheat Cookies
Yield:
3 1/2 dozen cookies
Ingredients
1 cup unsalted butter, softened
1 cup granulated sugar
1/2 cup packed light brown sugar
1 tsp vanilla extract
2 large eggs
2 1/4 cup white whole wheat flour
1 tsp baking soda
1/2 tsp kosher salt
1 cup Reese's Peanut Butter Cups Minis
1 cup semisweet chocolate chips
Instructions
Preheat your oven to 375 degrees. Line a baking sheet with either parchment paper or nonstick aluminum foil. Set aside.
In the bowl of a stand mixer combine the butter, sugars and vanilla extract. Using the paddle attachment, beat the mixture on medium-low speed until it becomes a singular color and texture — about 1 minute. Add the eggs and mix well on medium speed to combine, scraping down the sides as needed.
In a medium bowl, whisk together the flour, baking soda and salt together. With the stand mixer running on its lowest speed, add the flour mixture a little at a time until it's fully incorporated. Do not overmix. Fold in the Reese's Peanut Butter Cups Minis and semisweet chocolate chips.
Drop the cookie dough onto the prepared baking sheet in 1 1/2 tablespoon lumps (or use a medium size cookie scoop – my preference), leaving about 1 1/2 inches between the cookies.
Bake for 8-10 minutes, until golden at the edges. Let cool for about 3 minutes on the baking sheet before transferring to a wire rack to cool completely.
Notes
Store cooled cookies in an air-tight container for up to five days. All-purpose flour can be substituted for the white whole wheat, if desired. But then you lose the whole grain aspect of the cookies.