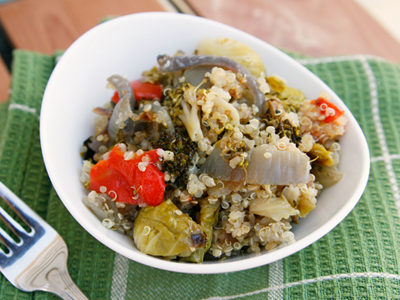 I've probably said this a million times, but sometimes the simplest preparation — like roasting vegetables with just olive oil, salt and pepper — can yield the most extraordinary results. That's the case with this Roasted Vegetable Quinoa, a bake that's sweet, savory and totally craveworthy, which I made for a special dinner over the weekend.
This past weekend, the kids and I loaded into my car and headed south to New Jersey for a Bloggers Valentine Feast with Joanne from Eats Well with Others and Cate from Sweetnicks. The drive takes just under two hours, which usually means the kids play and talk the whole way there and sleep the whole way home. This is our second food bloggers holiday get-together in the past year, the first being our Thanksgiving Feast.
What I love most about getting together with the girls is that the little quirks of being a food blogger and writer don't phase them — because they do the same things. Delaying dinner for photos? No one complains. Cameras being omnipresent? No biggie. And my kids see that they aren't the only ones with a mom who is constantly photographing everything.
When I was deciding what to contribute to the dinner, Cate immediately requested Cheesy Heart-Shaped Crackers, which I made a version of using puff pastry (I was out of pie crust dough). The pie crust version is definitely my favorite, but the airy puff pastry crackers were totally gobbled up. (Note: if you make them with puff pastry, the cooking time increases to 12-15 minutes, until golden and puffed.)
For my second dish, I wanted to go simple with items I already had in the pantry and fridge. Vegetables are literally everywhere in my kitchen, and we eat a ton of them, so something that used them seemed a natural fit. Roasted vegetables sprung to mind — they are easy to prepare and the roasting brings out the natural sweetness in them. I seriously can't get enough of roasted vegetables. I literally roast everything. But why stop there? Mixing the vegetables with cooked quinoa — a fabulous source of protein — and a little parmesan cheese took the whole thing from yum to satisfying and meal-worthy.
Everyone enjoyed it. Always a good thing.
Ready in about an hour, Roasted Vegetable Quinoa is easy but a little more time consuming than you might want for a weeknight. So whip it up on the weekend and enjoy the cold leftovers for lunch for days. Love a meal that does double duty like that.
Are you a quinoa fan?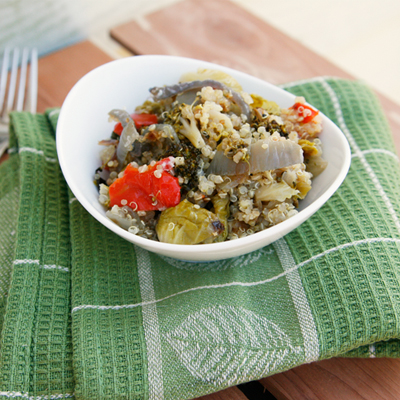 Roasted Vegetable Quinoa
serves 6
1 large red onion, quartered and sliced
2 cups quartered fresh Brussels sprouts
1 broccoli crown, chopped (stem too!)
1 red pepper, cut into 1-inch pieces
4 cloves garlic, crushed and chopped
2 tbsp olive oil, plus a drizzle more
salt and pepper, to taste
1 cup quinoa, rinsed
2 cups water
1/4 cup freshly grated parmesan cheese
Preheat the oven to 400 degrees. Spray a 9×13 baking dish with cooking oil spray. Prepare the vegetables and combine them in the baking dish. Drizzle with olive oil and season with salt and pepper. Bake for 45-50 minutes, stirring every 15 minutes or so, until the vegetables are soft and some are slightly golden.
Meanwhile, combine the quinoa and water in a medium saucepan. Bring to a heavy rolling boil. Then, reduce the heat to low, cover and cook for 15 minutes or so until the water is all absorbed and the quinoa is tender. Little white tendrils should be trailing around.
Once the vegetables are done, add the quinoa to the pan and stir well to combine. Drizzle with a little extra olive oil. Taste and season as desired with additional salt and pepper. Then, sprinkle with parmesan. Serve warm or cooled.