This quick and easy recipe for Sauteed Five Spice Shrimp is a kid-favorite in our house.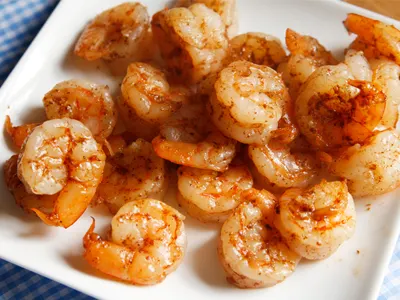 Dr. Seuss once wrote, "Remember that life's a great balancing act," and with every passing year, I nod in agreement more and more. This quote sticks in my head, particularly as I zip from work to school to sporting events to library to kitchen with the kids. It seems like so much of our life is spent on the go, heading to or from one thing or another.
And that's not a bad thing.
I am all for a full and active life. But sometimes at the end of the day, you just want to curl up and do nothing.
That rarely happens — there is always more to be done.
Still, you can help the balance tilt closer to center by choosing easy dishes for dinner when you're so busy. It's a logical choice — something simple that takes the pressure off. This shrimp dish? Ridiculously simple.
This recipe is based on a basic method for sauteing shrimp that I use often. Start by cooking the just-seasoned raw shrimp in a little olive oil. Add a little liquid (white wine is a fave), cover and cook for a few minutes. Then uncover and let the liquid evaporate. Done, and all it took was about 10 minutes. It always yields tender, juicy, well-seasoned shrimp.
With the addition of Chinese five-spice seasoning, these get a sweet-spicy twist that's irresistible.
So, yes, shrimp is a great choice for a super quick meal — especially when your kids love shrimp like mine do.
After a day of sporting events this weekend, the kids and I dashed into the grocery store for a few things for dinner. They didn't know it, but shrimp was on the menu. Shrimp cook so quickly and are always a huge hit. When we neared the fish counter, Paige looked at the display and then turned to me, "Mommy, can we have shrimp? They're my faberite." It was so easy to say yes.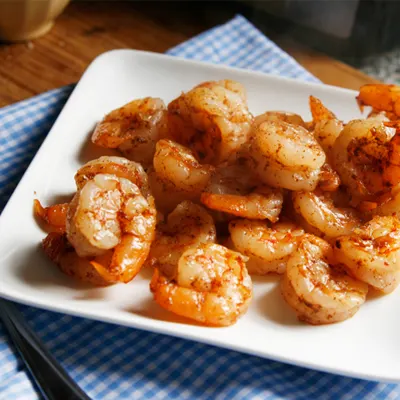 Sauteed Five Spice Shrimp
Ingredients
1 tbsp extra virgin olive oil
1 lb raw jumbo shrimp, peeled and deveined
1/2 tsp Chinese five spice seasoning
salt and pepper, to taste
2 tbsp dry white wine
Instructions
Heat the olive oil in a large skillet over medium heat. Add the shrimp and season with Chinese five spice, salt and pepper. Let cook, flipping once, until almost opaque (about 5 minutes).
Add the wine and cover. Cook for 2 minutes. Uncover and cook until the wine evaporates, stirring occasionally.
Serve immediately.