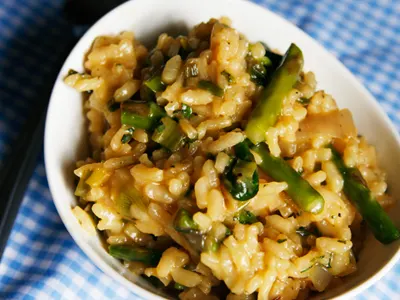 When Will started playing soccer three years ago, I was adamant that I wasn't a soccer mom. Nor would I ever be. At time, it was a distinction that mentally didn't jive with who I was.
Yes, I was a mother. Yes, I had a child paying soccer. But I wasn't the mom with the minivan, doling out snacks and managing homework while simultaneously watching soccer practice.
No, I was a working writer with deadlines who took meetings in New York regularly and also managed to get her son to soccer on time. I'm still most of those things (getting anywhere on time can be a challenge and I take a lot more conference calls than face-to-face meeting these days), but I'm also a lot more comfortable with where I am. Perhaps even who I am.
Back when I bucked at the idea of being a soccer mom, I still harbored fantasies that my family would move to Manhattan or Brooklyn. I thought that being closer to the publishing industry would boost my work and provide opportunities to the kids that they can't have here. It's true, but it's not everything. I can do my job from here and be happy. My kids have plenty of opportunity here too. And we can always run into the city to enjoy all those things.
It's not that I don't still love the city. I do. But when I close my eyes and picture my ideal home, it's not a New York brownstone (as much as I wish it was), it's a home on a beach with waves lapping the shore.
Maybe it's getting older, but I feel like it's time to just admit that I love the beach more than I love the city. I adore New York. Going in for meetings or brunch or for visits with the kids makes me so happy. But the beach is home.
As for being a soccer mom, that's okay too. Looking back, I really don't know what was wrong with the image to me. Perhaps it just didn't fit then. Or maybe I was just in denial. It doesn't matter though. I'm okay with it now. It's fun even.
Being comfortable with who I am and where I am in life is an important thing. It's like a warm embrace. Or comfort food shared among loved ones. Risotto, to me, falls firmly into that comfort food category (and is loved much like the beach).
If you are scared to make risotto yourself, don't be. The first time or two is a little nerve-wracking. But risotto is generally easy to make despite being time-consuming and requiring organization and preparation.
Before you start cooking, you need to gather your ingredients, chop and mince everything that needs it and have pretty much everything measured. You also need to warm the stock so that it absorbs easier into the rice. If you've done that, then you just quickly cook the garlic, rice and add the white wine. Then, once it's absorbed you just stir in one ladle of stock at a time, letting it absorb into the rice until you've used it all. Then you stir in the seasonings and veggies and cheese and voila, you have a craveworthy perfect risotto.
You can do this. I swear. Just give yourself time to do it right.
And yes, the cheese is important. It finishes off the delicate, creamy risotto on a graceful note. I always grate mine from a block just before using so that the Parmesan I swirl in is at its softest and freshest. The little things like this make a difference.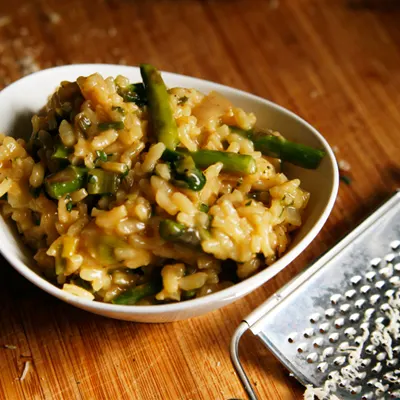 Herbs stirred into this risotto brighten the flavor of this creamy, sweet roasted vegetable dotted dish. It's a combination that will envelop you in its happy flavors — especially those roasted vegetables. I don't think I will ever tire of roasted veggies. They have a special spark to them.
The only problem with making this is that I immediately want to make it again the next night. And the next. Or maybe that's not a problem.
What's your ideal place to call home?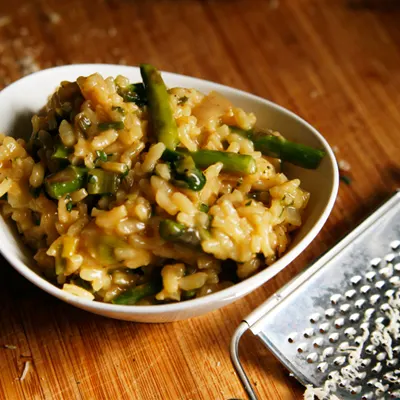 Garlicky Roasted Spring Vegetable Herbed Risotto
Ingredients
1 1/2 cups cut fresh asparagus, (1-inch pieces)
4-5 spring onions, sliced thin
1 shallot, chopped
3 tbsp extra virgin olive oil, divided
salt and pepper, to taste
5 cloves garlic, minced
1 cup arborio rice
1/2 cup dry white wine
4 cups chicken stock, (unsalted recommended), warmed
1 tsp fresh chopped thyme
1/4 cup fresh chopped basil
1/2 cup freshly grated parmesan cheese
Instructions
Preheat the oven to 425 degrees. Toss together the asparagus, spring onions, shallot, 1 tablespoon olive oil, salt and pepper in an oval baking dish. Bake for 15-20 minutes until the vegetables are lightly browned and slightly more tender than crisp.
Meanwhile, heat the olive oil over medium heat in a large stockpot. Stir in the garlic and cook for 1-2 minutes, until fragrant and tender but not browned. Stir in the rice and toss to coat. Cook for 1 minute.
Stir in the white wine and cook, stirring occasionally until fully absorbed. Add one ladle of stock, stirring well after the addition, and let cook until fully absorbed. Repeat until all the stock has been added and absorbed. Stir in the vegetables and herbs. Season with salt and pepper. Remove from heat and stir in the parmesan. Adjust seasonings to taste.
Enjoy immediately.