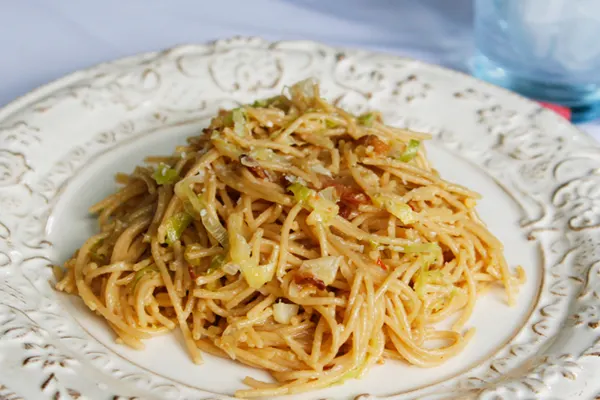 The spring before Will turned 3, I was consumed with thoughts of preschool. This isn't New York, so while there was a choice to be made, we didn't have to contend with wait lists that begin before birth.
Still, the slots fill up and time was ticking away while I held out on phoning the preschools in our town. Instead, I researched online, weighed their merits and obsessed without digging too much deeper. Will was growing up before my eyes — and it both frightened and thrilled me.
In the end, I only phoned one preschool. It was a familiar one, one that our family had attended. I made the decision by not really making a decision. Fortunately, it turned out to be a really good one.
Over the last four years, I've watched as first Will and then Paige were nurtured in the school. They've learned letters, numbers and how to write their names from the teachers. They can recite their birthdays and addresses thanks to the teachers.
Next week, Paige will graduate from that school and move up to elementary school with her brother. We won't just be saying goodbye to Paige's preschool days but our collective days as a family in that school. It has me more than a little emotional to think about. Bidding farewell is never an easy thing, is it?
I wish I had some pearls of wisdom to impart. But I don't.
What I do have though is a killer recipe for Leek and Bacon Carbonara. You toss whole wheat pasta with crisp bacon, sweet leeks and a creamy egg mixture. The egg cooks against the hot pasta, coating and creamifying it all at once. It's total comfort food.
Sure, this isn't a traditional carbonara, but that doesn't make it any less delicious. It's still pretty spectacular. And making it? It's an intense 15 minutes — and then you are eating. Easy.
You start with four slices of bacon (I keep mine frozen and cut off 1/4-inch pieces whenever I need a slice). Brown it in a hot skillet. Fish out the bits of crunchy, salty bacon-y goodness with a slotted spoon and put those babies on a paper towel lined plate.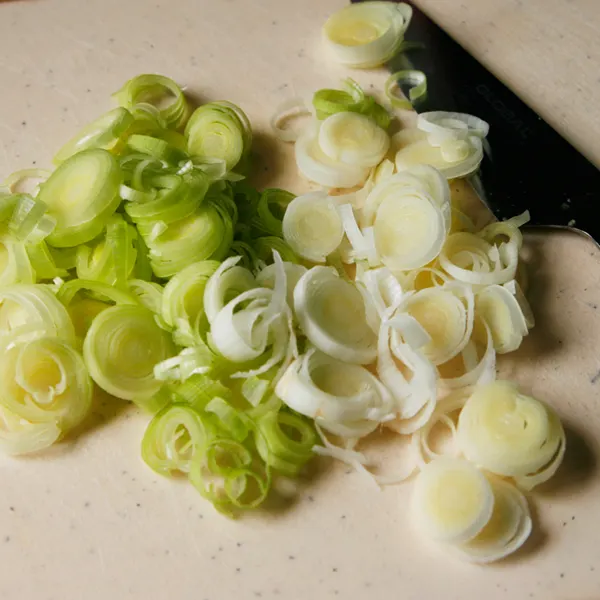 Then, stir thinly sliced leeks into the bacon grease. Yes, it's wildly decadent to cook them in the bacon grease. But as they soften and cook, it gives them a wonderful slightly sweet, slightly salty tone. Once they are all softened, move them to a paper towel-lined plate too.
Now comes the fun part. You toss piping hot whole wheat thin spaghetti with the bacon and leeks. Then you drizzle in a mixture of beaten eggs, red pepper flakes and salt. Toss, turn and flip that pasta around for a few minutes until the sauce gets all thick and creamy. Sprinkle in Provolone and toss well. (Yes, it's all about the tossing here. Just toss, toss, toss.) Season with a little salt and you are good to go.
Carbonara makes me happy. So does anything with leeks and bacon. So this carbonara? It's just perfect.
Leek and Bacon Carbonara
Ingredients
1/2 lb whole wheat thin spaghetti pasta
4 slices bacon, about 3 1/4 ounces, chopped
1 leek, washed and sliced thinly (white and light green parts only)
2 large eggs
1/4 tsp kosher salt, plus more to taste
1/4 tsp red pepper flakes
1/2 cup freshly grated sharp Provolone cheese
Instructions
Heat a pot of salted water over high heat on the stove for the pasta.
While the water is heating up, cook the bacon in a large skillet set over medium heat until browned. Remove with a slotted spoon to a paper towel lined plate. Add the leeks and cook, stirring occasionally, until softened (about 3-4 minutes). Remove with a slotted spoon to a paper towel lined plate.
Cook the pasta according to package directions.
Whisk together the eggs, salt and red pepper flakes.
Once the pasta has been cooked and drained, toss it immediately with the bacon and leeks. Then, add the egg mixture and stir vigorously until combined in the pasta pot set over low heat. The egg mixture will become creamy. Add the cheese a little at a time, tossing vigorously until fully combined. Taste and season as desired with salt.
Enjoy immediately.