With just a few ingredients, you can make a big batch of Easy Chewy Pumpkin Spice Chocolate Chip Granola Bars for easy grab and go breakfasts and snacks.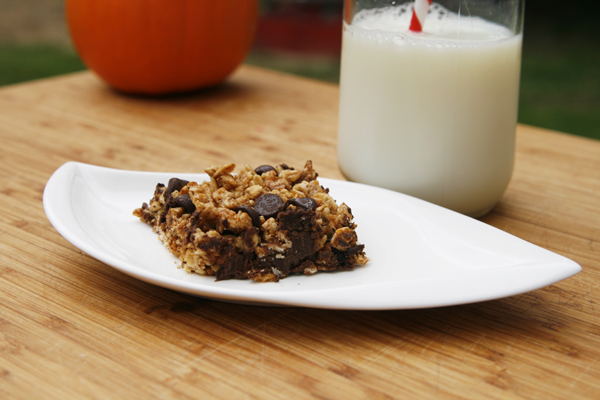 Most weekday mornings go something like this: The kids wake up. I wake up — either thanks to the kids, my alarm or Snoopy trying to convince me to let him out.
I drag myself out of bed. Get the kids breakfast (note to self: it might be time to empower them to get their own breakfasts), unload and reload the dishwasher, make and pack Will's lunch and then — finally — make myself coffee.
I usually have about 20 minutes to sit down before it's time to get Will on the bus and get down to work while Paige plays. Soon after, I repeat the process, getting Paige bathed, dressed, fed and off to school with a snack.
Often, if we don't have grab-and-go breakfast options, I forget to eat breakfast until Paige is off to school and it's time for lunch. Sad but true.
Honestly, I can't wait for when both kids are in school for the whole day. The daily juggle of responsibilities and work is hard. It feels like I am constantly headed to the bus stop and in a constant round of get ready for school, with work tucked in here and there.
When they are both at school at the same time, I will be able to compartmentalize work and home a little more. Until then, I need shortcuts to make sure that we are all fed, cared for and ready to tackle the day. And that I have enough time for work too — since that's important as well.
These granola bars? They are a good answer for the grab-and-go breakfast problem I have. They are simple to make — requiring little more than mixing, pressing, baking and cutting. They store well (and easily) in the cabinet for the week and are totally wallet-friendly.
For $6 or less, you can make a big batch of these Easy Chewy Pumpkin Spice Chocolate Chip Granola Bars. When you are watching your budget like I am, that's a pretty big thing.
What we all loved about these chewy granola bars was the combination of pumpkin spice flavor with lots of chocolate. Dark chocolate (hello, antioxidants!) so even that indulgence is sort of good for you. The kids love their granola bars to be chewy too — so these really hit all the right notes for them. And even though I love crispy granola bars, the combination of flavors in this makes me love them too. Happiness all around.
Also, because they are so filled with good stuff, they easily fill up your belly leaving you totally satisfied. That's a pretty big thing too.
Easy Chewy Pumpkin Spice Chocolate Chip Granola Bars
adapted from Prevention's Quick and Healthy Low-Fat Cooking
Ingredients
2 egg whites
2 tbsp honey
1/2 tsp pumpkin pie spice
16 oz Country Pumpkin Spice Granola, (I used Trader Joe's brand, but any pumpkin granola will suffice) - about 4 cups
9 oz semi-sweet chocolate chips
Instructions
Preheat the oven to 350 degrees. Line a 9×13-inch baking pan (I used my trusty Pyrex) with parchment paper or nonstick aluminum foil.
In the bowl of a stand mixer, beat the egg whites to soft peaks.
In a small saucepan set over low heat, whisk together the honey and pumpkin pie spice until combined. With the stand mixer running on low, drizzle the honey mixture into the egg white mixture until blended. Fold in the granola and chocolate chips.
Press the granola mixture into the baking pan, pressing with a spatula to spread it evenly and pack it down. Bake for 18-20 minutes, until golden.
Remove from the oven and let site for 15 minutes. Transfer the aluminum paper (with granola mixture on top) to a cutting board. Cut gently in to squares (but don't separate them). Then cool completely
Store bars in an airtight container with wax paper between layers of bars for up to a week.