Thanksgiving is a mere days away now, and if you are like me, you probably know what you are making. But I am going to urge you to rethink your mashed potatoes — seriously.
For me, they tend to be almost an afterthought — the thing I make because I have to. But mashed potatoes? They really don't need to be an afterthought. In fact, they can be truly spectacular without a lot of effort — like in this easy (yes, easy) Cheddar Mashed Potatoes with Bacon and Apples dish. More on that in a second.
First, I need to tell you something. I'm going to be on television this week. See, recently, I was invited to a taping of The Chew.
And guess where I sat?
The tasting table.
It was amazing (that's me on the far right in the red).
Have you heard of The Chew? It's a daytime show on ABC with hosts Clinton Kelly, Michael Symon, Mario Batali, Carla Hall and Daphne Oz. They show's main focus is food — with a little lifestyle content thrown in for good measure. I've been watching it for a while now, mostly because the hosts always seem like they are having so much fun.
There's something contagious about an energy like that. Turns out … It's all real too.
The cast and crew were obviously having such a good time together — they are all just so happy. Between takes, everyone (and I mean everyone) bopped to the music, chatted happily and snacked on no-longer-needed dishes — all while also working on getting things ready for the next scene. It makes me want to watch even more.
If you ever have the opportunity to go to a taping, I highly recommend it.
As for the tasting table? It was amazing to sit there. I was so close to all the action and got to chat a little with the hosts between segments. I also got to sample some of the dishes they made on the show. Look for me smiling, clapping and enjoying.
As part of this assignment, I was asked to transform a recipe a little into my own style. When I saw Nigella Lawson's Cheddar Mashed Potatoes with Bacon and Apples on the list, it was a no-brainer. I mean cheddar! And bacon! And apples? Well, it still sounded awesome.
And it is — sweet, salty, rich, creamy potatoes. These are no afterthought and since they aren't too complicated to make, they are totally doable for Thanksgiving too.
I altered the recipe in three ways: first, I changed the potato cooking method so that they would cook in a mere 15-20 minutes instead of the original 40 minutes. But cutting the potatoes into smaller pieces, they cook a lot faster — something I prefer when making a holiday dish. Also, that timing thing simplifies this recipe so it won't make you pull your hair out while creating it. Second, I omitted the onions it called for, changed mild cheddar to extra sharp (a personal favorite) and added a little dry mustard to really bring out the flavor of the cheddar. And finally I cut down on the portions this makes to feed my family of four.
The Chew airs weekdays on ABC at 1 pm EST, 12 pm PST/CST. And be sure to tune in on Wednesday, November 21 — You can see me at the tasting table (I'm wearing red!). Also, I was asked to mention that The Chew is your home for holiday ideas … For more recipe and craft ideas check out ABC.com/thechew.
Visit BlogHer.com to find links to see what the other bloggers created.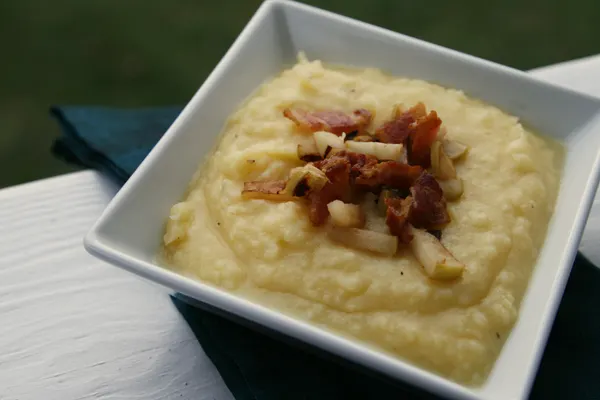 Decadent Cheddar Mashed Potatoes with Bacon and Apples
adapted from Nigella Lawson
Ingredients
2 1/4 lbs Yukon gold potatoes, , peeled and cubed
3 slices bacon
1 Granny Smith apple, , chopped
1/2 cup milk
1 1/4 cup grated extra sharp cheddar cheese
1/4 tsp dry ground mustard
salt and pepper, , to taste
Instructions
Bring a pot of salted water to a boil. Add the potatoes and cook for 15-20 minutes, or until just tender.
Meanwhile, sauté the bacon until browned. Remove from the pan to a paper towel-lined plate. Add the chopped apples and cook, stirring occasionally until golden and tender.
Drain the potatoes and return to the pot. Add the milk and mash thoroughly.
Return the pot to the burner over medium-low heat. Stir in half of the cheddar until smooth. Stir in the other half of the cheddar until smooth. Season with dry ground mustard, salt and pepper.
To serve: Spoon the mashed potatoes into a serving dish and top with bacon and apples. Enjoy.
---
Disclosure: I was compensated for my time, supplies and creating this recipe and post. However, as always, all opinions are my own.