Weeknights can get so crazy. When the kids get home from school, it always seems like a mad rush to do homework, sometimes have a snack and get dinner going. But I am usually still working. And trying to oversee said homework. And managing a house full of kids and dogs.
This all creates a sort of push-pull of responsibilities and wanting a really delicious dinner. Fortunately, you can have both — without eating super late or spending a ton of time cooking. These calzones are a perfect answer.
Using a refrigerated pizza crust, this is so simple. You just cut the dough into four pieces, stretch them all out (until about double in size) and then top them with ricotta, kalamata olives, roasted red peppers and mozzarella. Fold. Seal. Bake. Done.
They bake up to have a crisp outside and soft interior. The dough has a slight sweetness to it, which is a nice contrast to the salty, creamy, cheesy insides. And dipped in marinara sauce, the hot-cold contrast is just right. Serve them with a salad and you are all set for a quick and easy dinner for a busy weeknight.
What's your favorite high-flavor, low-time dish to make for busy nights?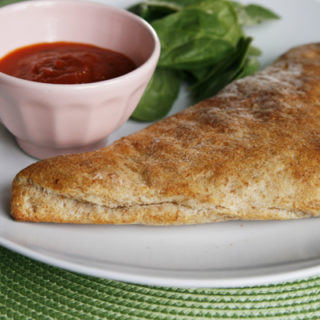 Mediterranean Whole Grain Calzones
Ingredients
1 Pillsbury Artisan Pizza Crust with Whole Grain
1/2 cup part skim ricotta cheese
1/4 cup chopped roasted red peppers
1/4 cup chopped kalamata olives
1/2 cup shredded mozzarella cheese
Marinara sauce
Instructions
Preheat oven to 400 degrees. Line a baking sheet with nonstick aluminum foil or grease a baking sheet.
Unroll the pizza crust and cut into four pieces. Stretch each piece of dough to double size. Top each one with 1/4 of the ricotta, roasted red peppers, kalamata olives and mozzarella. Fold the dough over and press to seal the edges.
Bake for 12-14 minutes, until lightly browned. Serve with marinara sauce.
---
Disclosure: I was compensated by Pillsbury for creating this recipe with Pillsbury Artisan Pizza Crust with Whole Grain. All opinions are my own.
Sarah Walker Caron is a cookbook author, freelance writer and founder of Sarah's Cucina Bella. She is the author of four cookbooks including The Super Easy 5-Ingredient Cookbook and One-Pot Pasta, both from Rockridge Press. A single mother to a tween and a teen, Sarah loves nightly family dinners, juicy tomatoes plucked fresh from the vine and lazy days on the beach. She also adores reading and traveling.