When I saw these portabella mushrooms at a local grocery store, I swooned and my head filled with images of meaty roasted portabellas on a salad. Everything else I had imagined cooking vanished (I had really planned to stuff mushrooms with St. Patrick's Day leftovers). I just wanted my warm portabellas and cool salad.
We're mushroom fans here. Through and through.
On a recent evening, I browned cremini mushrooms in a skillet with a bit of olive oil, salt and pepper and then swirled in a little red wine to finish them off. They were meaty, rich and tender. Then I spooned them over medium-rare sirloin steak served alongside some cheesy tortellini. Guess what the kids dug into first?
We eat mushrooms fairly often since the kids and I really love them. They are perfect for roasting alongside bell peppers, Brussels sprouts and other vegetable favorites to be spooned over rice or mixed into pasta with cheese and a little olive oil. They are sliced on salads and stuffed for appetizers. Sometimes, I will saute them and just eat them like that. And no matter how I cook them, they are always greeted with "Oooh! Mushrooms!" by my kids.
Selfishly, I wish they didn't love them this much — there would be more for me!
I was recently asked to partake in the National Nutrition Month blog tour sponsored by The Mushroom Channel (aka the Mushroom Council, an organization of fresh-market mushroom producers and importers whose mission is to encourage the eating of mushrooms in a variety of meals), sharing how my family add mushrooms to our menu in a way that suits our family's tastes and health goals.
March is National Nutrition Month and this year's theme is "Eat Right, Your Way, Every Day." For us — well, the kids and I, at least — mushrooms aren't just a great meat alternative, but they are also a versatile addition to a variety of dinners … and lunches too. And from a health standpoint, mushrooms also have a lot to offer — they are rich in antioxidants and have a healthy dose of vitamins B and D.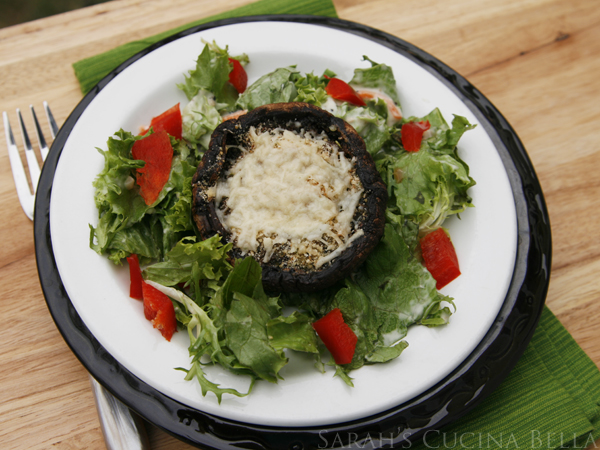 Now, let's talk about this bodacious meal.
I don't think I have ever used the word 'bodacious' before, but I think it's fitting here. Because it totally is. Bodacious, I mean. Anyway …
This salad is perfect for a light lunch. Meaty portabella mushrooms are roasted until tender and then topped with breadcrumbs and cheese and roasted a little more. Then, they are served on a cool, creamy Caesar salad. It takes a good 40 minutes to make — but most of it is hands-off as the portabellas roast. It's a little longer than I like to spend making lunch on a weekday, but it's so worth it.
Just don't tell the kids that I've been indulging in this without them.
One More Thing …
If you love talking mushrooms, be sure to tweet away with the Mushroom Council at their Twitter Party on Wednesday, March 20th 8-9 PM EST. The hashtag for the party will be #MushroomDish. The party will serve as a discussion for everything mushrooms, from their versatile nature to their flavorful umami qualities.
Warm Cheesy Roasted Portabella Caesar Salad
Meaty portabella mushrooms are roasted with a breadcrumb and cheese topping, then served over cool, creamy Caesar salad.
Ingredients
4 Portabella mushrooms, stems removed
1 tbsp olive oil
1/2 tsp dried basil
Salt and pepper, to taste
4 tsp Italian seasoned breadcrumbs, divided
8 tsp shredded Italian cheese blend, divided
4 cups lettuce
Caesar dressing, to taste
1/2 cup chopped red peppers
Instructions
Preheat oven to 425 degrees. Wipe the Portobello mushrooms clean with a damp paper towel. Place on a nonstick baking sheet and brush with olive oil. Season with salt, pepper and basil. Bake for 20-25 minutes, until soft.
Sprinkle each mushroom with 1 teaspoon breadcrumbs and 2 teaspoons cheese. Return to the oven for five minutes.
Stir together the lettuce and dressing and divide evenly among four plates. Top each with a mushroom and sprinkle with red peppers.
Enjoy!
Disclosure: This post was sponsored by the Mushroom Channel/Mushroom Council. Connect with them on Pinterest, Facebook, and Twitter. All opinions and recipes within this post are my own.