Our local farmers market opened for the season yesterday (finally!). It used to be an all-organic market that was held just down the street from me. Just minutes away, it was tucked away in the parking lot of a local church. Then it moved a little downtown then a little across town. Throw in a few more location changes and the the inclusion of non-organic but locally grown foodstuffs, and well, you have our market yesterday. It's farther away, but more centrally located — probably a good thing overall. Ironically, when the market was just down the street I almost never went. Things change. Now, I love going and do so as often as possible. What I love about market days isn't just the produce and other goodies that I come home with. It's the people. There are the farmers I've known for years. The bakers from
Beldotti Bakery
, always ready with a kind word and a smile, hand out little bites of their amazing semolina bread piled with fresh tomato, fresh mozzarella and a drizzle of pesto. And there's seeing the neighbors and friends who I inevitably run into while choosing greens or peaches or whatever. Going to the farmers market is such a community-minded thing. I love it. And, of course, I also love the veggies I come home with. Nothing beats locally grown, just harvested foods. Seriously. At the market yesterday, I scored some wonderful peppery arugula and crisp sugar snap peas from
Waldingfield Farm
in Washington, Connecticut. I also came home with some sweet hot house tomatoes (it's too early for outdoor ones), fresh hummus, local biscotti and, of course, the semolina bread from Beldotti Bakery. But it was those first two that I couldn't wait to create something fresh and new with.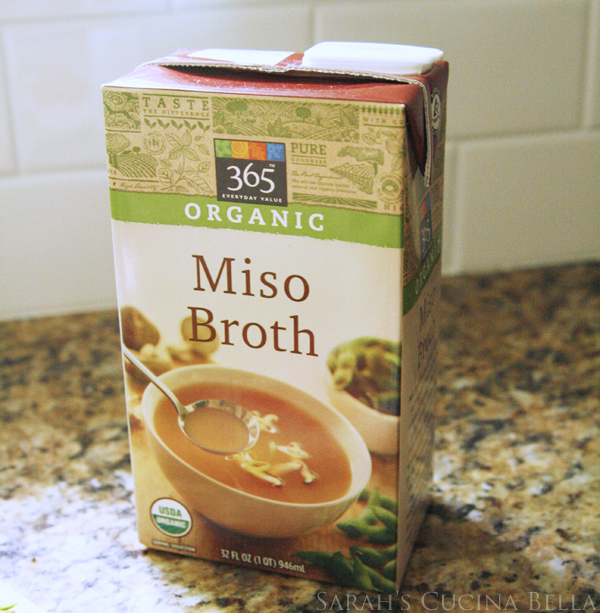 It was a little serendipitous that I discovered Miso Broth on a trip to Whole Foods later in the day. I could almost taste the earthy miso and fresh vegetables together when I picked it up. (Hint: This carton, which has 1 quart of broth, was a bargain at a little less than $2.)
This soup is simple, fast and filling. Filled with rice noodles (I used these pretty Purple Corn and Rice Noodles from Thai Kitchen that I had in the cupboard), peppery arugula, sweet red bell peppers and crisp sugar snap peas, this recipe relies on the natural flavors of these ingredients to create something fresh and summery. It's like salad in soup form … or something like that. And it's all topped off with a hard cooked egg (love them!). One itty bitty hint though: if you aren't fond of one of the veggies in this, skip it and substitute it with one you do like. There's no masking the natural goodness in this soup. Are you a farmers market fan?
Simplest Summer Vegetable Miso Noodle Soup for One
This simple soup recipe really relies on the natural flavors of the vegetables in this dish.
Ingredients
1/4 cup thinly sliced red bell pepper
1/4 cup thinly sliced sugar snap peas
1/4 cup packed arugula, torn
1 1/2 cups miso broth, I found it in a carton at Whole Foods
2 oz rice noodles, I used purple corn and rice noodles
1 hard cooked egg, halved
Salt and pepper, to taste
Instructions
Add the red bell peppers, sugar snap peas and arugula to a bowl. Set aside.
On the stove, heat the miso broth to boiling. Stir in the rice noodles and let sit as directed on the package.
Pour the broth and noodles into the bowl. Add the hard cooked egg. Season, as desired, with salt and pepper. Enjoy.
Notes
If you aren't a fan of any of the veggies in this dish, substitute them as desired.
Sarah Walker Caron is a cookbook author, freelance writer and founder of Sarah's Cucina Bella. She is the author of several cookbooks including The Super Easy 5-Ingredient Cookbook and One-Pot Pasta, both from Rockridge Press. A single mother to two kids in middle school, Sarah loves nightly family dinners, juicy tomatoes plucked fresh from the vine and lazy days on the beach. She also adores reading and traveling.