I am a member of the Collective Bias® Social Fabric® Community. This shop has been compensated as part of a social shopper insights study for Collective Bias and their client Velveeta. I was challenged to create a recipe outside the proverbial box, and came up with this easy grilled potato wedges recipe that will delight the kids without heating up the kitchen.

It's hot here in Connecticut. Perhaps not the stifling, steamy hot of Florida, but considering the fact that a few days ago it was still sweatshirt weather at night, this is a sudden and sticky change. And, since the weather so rapidly became crazy hot, it's one that left me unprepared for the realities of cooking (and eating) on hot days. I mean, I know it's June and all … but this is like late July hot. And we are so not ready for it.
Did I mention that we are presently without air conditioning? Both of our cars and our home is AC-less. Frightening.
And yet, despite the heat, whenever I ask the kids what they want to eat for a meal, cheese comes into play. The melty kind of cheese that is pure comfort ala macaroni and cheese in the wintertime — but totally weather inappropriate on days like this.
Fortunately, between my grill and bread box microwave I can whip up an easy side dish that fulfills the kids' cheesy wish without heating up my kitchen with boiling macaroni or stovetop cheese sauces.
Say hello to Cheesy Bacon Smothered Grilled Potato Wedges with Velveeta. This recipe starts with some seasoned grilled potato wedges. A little salt, paprika and a hint of chili powder give these wedges a little kick — and they cook up tender and tasty on the grill in less than 15 minutes.
They are so easy to make and so tasty as a side dish.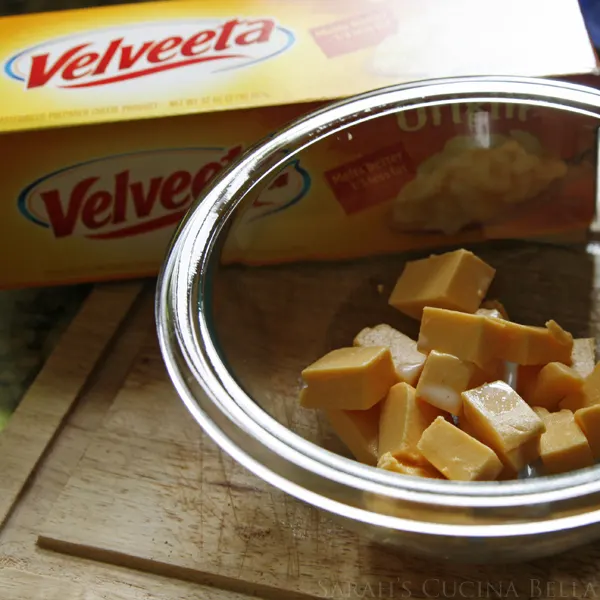 But then it gets even better because these potato wedges are served smothered with cheese and bacon. Um, YUM!
When the potato wedges are about done, you make the easiest of cheese sauces using Velveeta and a little milk. Velveeta isn't something I use often, but when you want that cheesy goodness and don't want to heat the kitchen it's absolutely perfect. Velveeta cheese melts so easily that you can just toss it in the microwave and have it ready to go. (Perhaps that's why they call it "liquid gold?")
Then you pour that creamy mixture over the potatoes and sprinkle it with crispy cooked bits of crumbled thick cut bacon (make a little extra when you are making bacon and save it for this dish — then you don't have to heat the kitchen to have it ready to go).
The best part of this dish? The kids will go crazy for this summer-appropriate comfort food.
Be sure to also see the Google+ Album I made about this recipe.
Cheesy Bacon Grilled Potato Wedges
Ingredients
3 russet potatoes, cut into 8 wedges each
2 tbsp canola oil
1/2 tsp kosher salt
1/2 tsp sweet Hungarian Paprika
1/8 tsp chili powder
4 oz Velveeta cheese, from a 2 lb loaf
1 tsp milk
2 slices thick cut bacon, prepared and crumbled
Instructions
Heat your grill up – if using a gas one, preheat it to its medium setting.
In a large resealable plastic bag, combine the potatoes, oil, salt, paprika and chili powder. Shake vigorously to combine.
Using tongs, place the potatoes one the grill across the grates. Yes, it's tempting to just dump them on there, but it's way better it carefully place them so that they are in a single layer and not touching. Cook for 10-15 minutes, flipping once, until golden and cooked through. Place in a shallow serving dish.
Meanwhile, cut the Velveeta into 1/2-inch pieces and place in a microwave-safe bowl. Add the milk. Microwave on high for 1 minute, and then stir well.
Spoon over the potato wedges. Sprinkle with crumbled bacon. Enjoy.
Notes
This was created as part of a paid project for Collective Bias/Velveeta. All opinions are my own.
---
Disclosure: I was compensated for my participation in this campaign with Collective Bias and their client Velveeta. You can follow Velveeta on Twitter. All opinions are my own.