Please welcome the lovely Aviva Goldfarb to Sarah's Cucina Bella today. She's the fabulous mind behind the meal planning service The Six O'Clock Scramble, and author of several cookbooks. I first spoke with Aviva several years ago while writing an article about services like hers. She was so insightful, kind and interesting that I felt like I'd met a kindred spirit in food. Right now, she's spearheading the Family Dinner Challenge, which encourages families to eat together at least three times per week for four weeks — a topic very near and dear to my heart. After hearing about this project, I asked Aviva to guest post for me (which you know is a huge deal, since I almost never have guest posters). Without further ado …
Family Dinners Are What I Crave Most About Fall
by Aviva Goldfarb
The summer is nearly over and our teenage son and daughter are finally back from their summer camps and adventures. I'm not excited about a lot of aspects of getting back to the fall routine, especially the hectic schedules, early morning alarms, and all the driving to practices and games.
The one thing I am craving is more time around the family dinner table now that we're all home again. Like other families, we face obstacles to coming together such as evening sports or music practices, hectic work schedules and food that sometimes doesn't appeal to everyone. But because we have all come to believe so strongly in the power of family meals, we find ways to get around these obstacles most nights.
It doesn't matter all that much what we're eating, although I do my best to make a healthy meal that we will all enjoy. The vital ingredient at family dinners is that we are sitting together, looking each other in the eye, conversing and connecting in a direct, more personal way. Without these precious hours we might not get to hear about Solomon's new technique for making handles and lids in ceramics, or about Celia's anxiety about her soccer team tryouts.
Did you know that sitting down for meals together at home is one of the most powerful things we can do to raise healthy kids and make our families closer? Recent studies have shown that when families eat dinner together more often:
Kids maintain a healthier weight
Families have healthier eating habits, including consuming more vegetables
Teens are less likely to engage in risky behaviors (like drinking, drugs and sexual activity)
Kids and teens have closer relationships with their parents
All this from something as simple as eating dinners together, even a few times per week.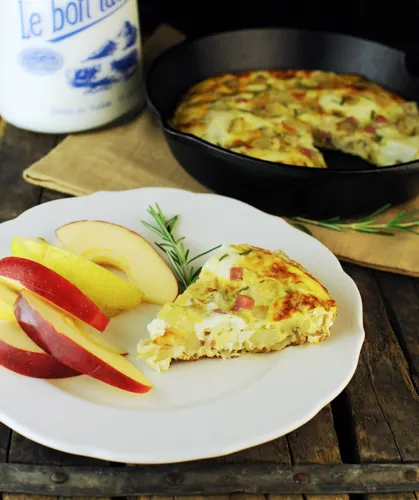 Ten years ago I launched The Six O'Clock Scramble to help families get healthier, homemade dinners on the table with a lot less stress and expense so they could bring joy and good nutrition back to the dinner table. The idea has caught on, with tens of thousands of families using The Scramble to plan and cook meals, but it's still not nearly enough.
That's why I am excited and hopeful as we come together for the Family Dinner Challenge. My ambitious goal is to get at least 10,000 families to commit to eating dinner together at least 3 times a week for 4 weeks between now and September. We are going to give each of the people who take the challenge all the tools they need, including weekly menus, healthy dinner recipes and grocery lists, and more to make the challenge a success for their families.
Our hope is that they are so inspired by the positive changes that take place in their homes during the challenge that they will continue making healthy family dinners a priority in their busy lives.
Take the Challenge today, and bring your family together tonight at the dinner table with this nourishing homemade meal that takes only 30 minutes from start to finish.
Spanish Oven Omelet with Diced Potatoes
Spanish tortillas -- or oven omelets -- make a delicious breakfast, brunch or dinner. They can be served warm, cold or in between (in Spain they cut them into small wedges and eat them cold!). Though the recipe calls for goat or feta cheese, you can use any hard or soft cheese that you like. Serve it with turkey bacon and sliced mangos. This recipe comes from Aviva Goldfarb of The Six O'Clock Scramble.
Ingredients
2 Yukon Gold or russet potatoes, (about 3/4 lb. total), peeled and diced
2-3 Tbsp. extra virgin olive oil
1 yellow onion, , finely chopped
1/2 cup chopped ham or smoked turkey, , sundried tomatoes, or sliced mushrooms (optional)
1/2 – 1 tsp. fresh or dried rosemary
1/2 tsp. salt
1/4 tsp. black pepper
5 eggs
1/4 cup nonfat or low fat milk
3 Tbsp. goat or feta cheese, , crumbled
Instructions
In a medium-sized, microwave-safe bowl, sprinkle the potatoes with about 1 Tbsp. water, cover them lightly, and microwave them on high heat for 3 - 5 minutes until they are fork tender. (Alternatively, boil or steam them for 5 minutes on the stovetop.)
Preheat the broiler and set the rack 4-5 inches from the heat source. Spray a heavy 10-inch oven-proof skillet with nonstick cooking spray and heat the oil in the same skillet over medium heat. Sauté the onions until they are softened, about 5 minutes. Add the softened potatoes, any optional fillings, rosemary, salt and pepper and sauté it for about 3 more minutes. (Meanwhile, cook the bacon and peel and slice the mangos, if you are serving them.)
In a separate bowl, combine the eggs, milk and cheese and pour the mixture over the potatoes in the skillet. Raise the heat to medium-high, and cook the mixture for about 2 minutes, until the eggs start to set. Place the skillet under the broiler and cook it until it is golden brown on top, 3 - 5 minutes. Watch closely so it doesn't burn. Remove the oven omelet from the oven, let it cool for a few minutes, cut it, and serve it warm (or cold, if you prefer).
Notes
Do Ahead or Delegate: Cook the potatoes or dice them and soak them in water to prevent them from browning. Chop the onion, beat and refrigerate the egg, milk and cheese mixture, chop or slice any optional ingredients if necessary or fully prepare and refrigerate the dish.
Tip: Yukon Gold potatoes, named for their yellow hue, are great potatoes for boiling, steaming, mashing and adding to soups.
Scramble Flavor Booster: Use 1 tsp. or more of rosemary, and one of the optional fillings.
---
About the Author: Aviva Goldfarb is a Family Dinner Expert and founder and CEO of the family dinner planning site, the Six O'Clock Scramble. Aviva is author of 3 cookbooks including her most recent, "
SOS! the Six O'Clock Scramble to the Rescue : Earth-Friendly, Kid-Pleasing Dinners for Busy Families," which was named one of the best cookbooks of 2010 by the Washington Post. Aviva is a recent and upcoming Today Show guest and is frequently featured in national parenting, lifestyle and health magazines and TV and radio shows.
This post contains affiliate links.