These Mini Sweet Potato Casseroles are a perfect quick and easy side dish. Plus, it's a small batch — perfect for just a few people.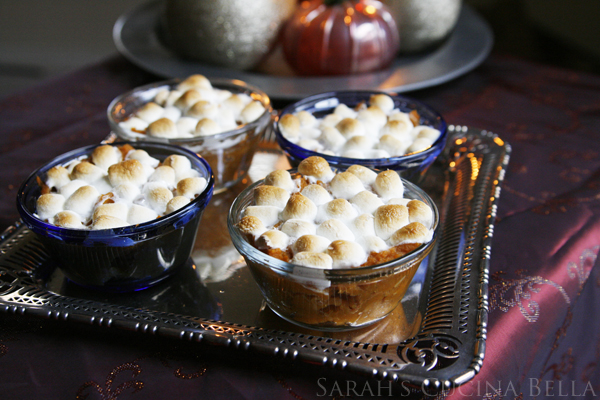 I am a member of the Collective Bias® Social Fabric® Community. This shop has been compensated as part of a social shopper insights study for Collective Bias and its client.
November is a busy month in our family. There are numerous birthdays followed soon after by our annual Thanksgiving dinner. I love hosting Thanksgiving, and especially love filling our table with a breathtaking amount of food — without stressing out about it. My goal is to create enough dishes that everyone has a lot to enjoy — no matter what their food preferences are.
When Social Fabric asked me to head to Walmart and pick up some Kraft products to make a party-ready dish, I knew it would have to be something for our biggest party of the year (Thanksgiving, of course). You can check out more about my shopping trip in this special Google+ Album.
These Mini Sweet Potato Casseroles are perfect for any party since they are quick, easy and served in individual portions. And since this makes a smaller batch, this is perfect for families like ours where sweet potatoes can be totally divisive. I love them … but not everyone does. In this nut-free version, a touch of Bakers Coconut adds a little sweetness and texture to the creamy sweet potatoes. And, of course, they are topped with toasted mini marshmallows (Jet-Puffed, natch).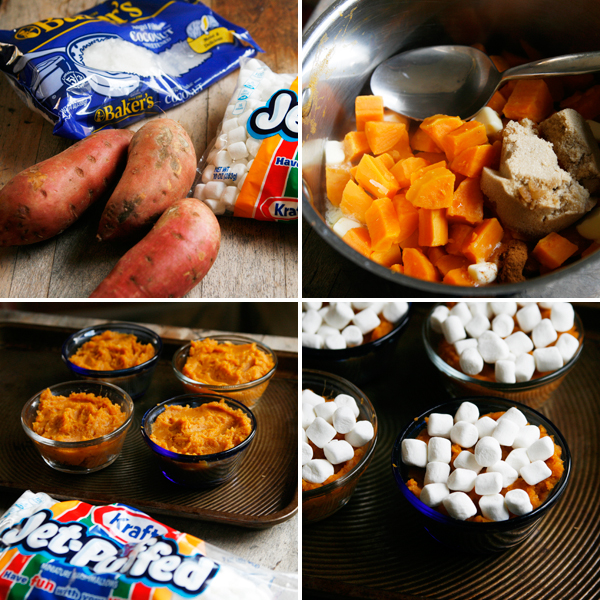 The great thing about these? They are so simple and easy. You start by boiling the sweet potatoes until they are tender. Then, you mash them up with butter, brown sugar, cinnamon and a hint of salt. Stir in the coconut and then top with the marshmallows. Then bake to perfection.
And really, little browned marshmallows? They are total perfection.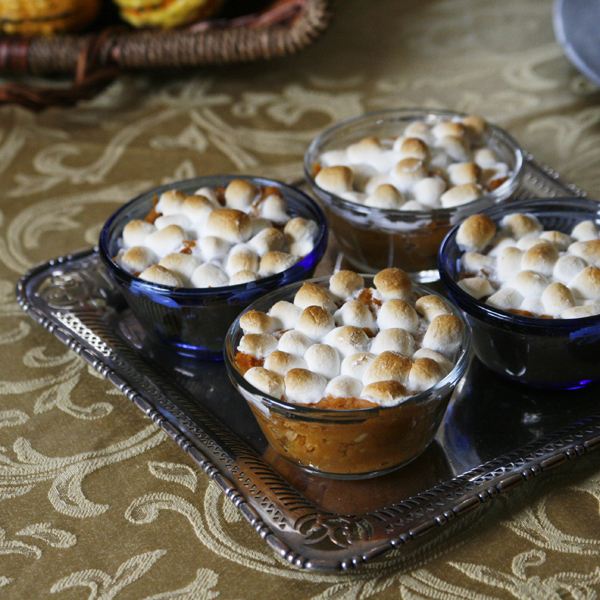 Here's another good thing to know: These Mini Sweet Potato Casseroles are perfect for an easy make-ahead dish. Just whip up the sweet potato portion and put it into the custard cups. Cover, and when you are ready to bake, top with the marshmallows and go.
Easy peasy — and portioned for individual consumption.
While you are in planning mode, don't forget to start thinking about your appetizers and drinks too. A veggie plate with Kraft Ranch Dressing makes for a super easy appetizer that guests always love. Seriously, whenever I set out a veggie plate, it disappears. It's the simplest thing but everyone enjoys it.
As for the drinks, a pitcher of ice water with slices of lemon is always delicious. But sometimes it's really fun to have a special drink too — Like Welch's Sparkling Drinks. With flavors like Cranberry and Blueberry Grape, these fun, kid-friendly drinks add a special sparkle to any celebration.
Mini Sweet Potato Casseroles
Ingredients
1 lb sweet potatoes, peeled and cubed
2 tbsp unsalted butter
1/4 cup packed light brown sugar
1/2 tsp salt
1/2 tsp ground cinnamon
2 tbsp Bakers Sweetened Coconut
1 cup Jet-Puffed Mini Marshmallows
Instructions
Bring a pot of water to a boil on the stove. Add the sweet potatoes and cook for 15 minutes or until fork tender. Drain well.
Preheat the oven to 375 degrees.
Stir together the sweet potatoes, butter, light brown sugar, salt and ground cinnamon. Then mash well. Stir the coconut into the sweet potato mixture.
Divide the sweet potato mixture evenly among four custard cups. Press down so that the potatoes are in a firm layer. Divide the marshmallows among the custard cups, sprinkling them on top of each. Place the custard cups on a baking sheet.
Bake for 10-15 minutes until the marshmallows are golden brown. Serve hot.