This recipe for Easy Veggie Scampi is a fabulous lunch to enjoy with friends, and was created for my client Campbell's. All opinions are my own.
Okay, I know we are all in full holiday mode here … but can we talk about lunch for a minute? While I love the idea of doing lunch ala Carrie Bradshaw with my best girls, it seldom happens.
Even with both kids in school full-time, somehow there never seems to be enough hours in the day to get everything done — and there's certainly not enough time for lunching.
But that doesn't mean you can't have an amazing lunch at home. In fact, with easy and relatively hands-off recipes like this, lunching at home becomes pretty darn doable.
It's a good thing.
Easy Veggie Scampi with Whole Wheat Thin Spaghetti? It's a quick and easy recipe that is relatively hands-off. And it's so tasty that you will love every veggie-filled bite.
Filled with rich mushrooms, warm tomatoes and tender artichoke hearts, this scampi mixed with whole wheat thin spaghetti pasta is anything but typical. It's hearty and warm — a happy vegetarian dish that you will love eating. The ready-to-go sauce (it's Campbell's Skillet Sauce) in Scampi brings the whole dish together. And if you wanted to share it with your besties?
Well that works too — it's like doing the whole lunching thing at home. And totally just as fun.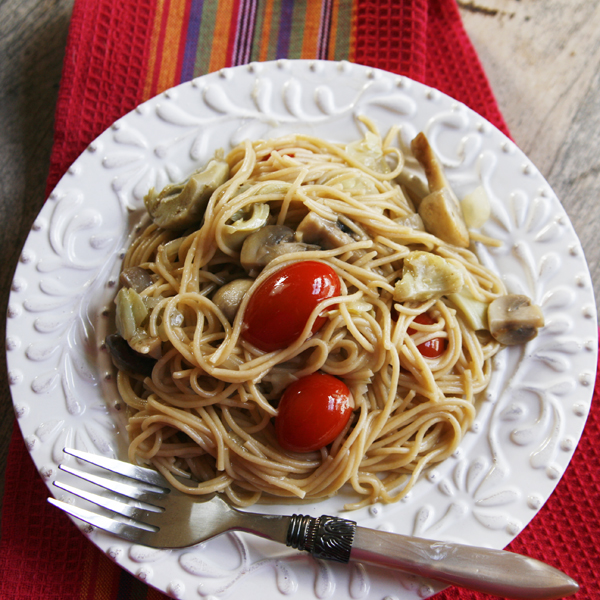 Want to dig in?
Easy Veggie Scampi
Ingredients
1 tbsp extra virgin olive oil
8- oz whole mushrooms, quartered
1 small yellow onion, quartered and sliced
1/2 tsp kosher salt
1 cup grape tomatoes, rinsed
1 9 oz. box frozen artichoke hearts, defrosted and quartered
1 pouch Campbell's Scampi Skillet Sauce
1/2 lb whole wheat thin spaghetti, prepared
Instructions
Heat the olive oil in a large skillet with a cover. Add the mushrooms and onions and sprinkle with salt. Cover, and cook for 15 minutes, stirring occasionally. The onions should soften and the mushrooms release some of their water.
Uncover, and stir in the tomatoes and artichoke hearts. Let cook for 5 minutes.
Stir in the Campbell's Scampi Skillet Sauce. Bring to a boil and then add the cooked thin spaghetti. Toss well.
Serve immediately. This is especially great with a sprinkle of parmesan cheese.
This post brought to you by Campbell's Dinner Sauces. Weekend-worthy dinners with only weekday-level effort needed! Learn more at http://www.campbellsauces.com/.