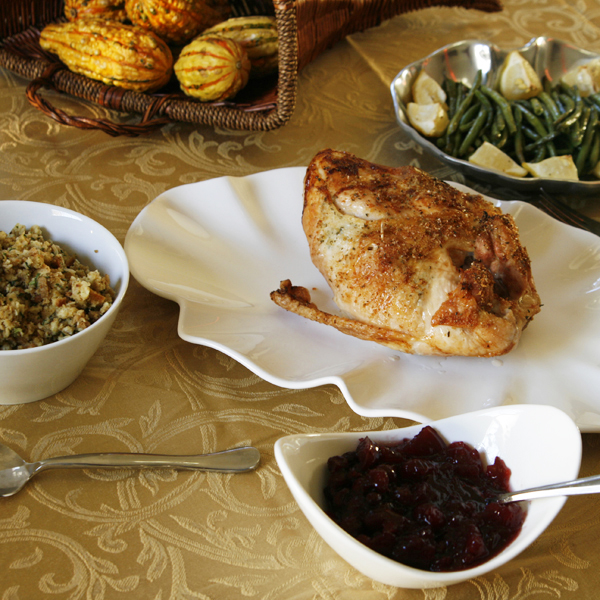 Thanksgiving is coming. Are you ready?
Whether you are new to the kitchen or looking for a delicious menu that won't leave you pulling your hair out, this Stress-Free Thanksgiving Dinner Menu is a perfect compromise between tradition and ease of preparation. Featuring a roasted split turkey breast and several make-ahead side dishes, this Thanksgiving menu is both decadent and doable.
Stress-Free Thanksgiving Dinner Menu
Roasted Lemon Rosemary Split Turkey Breast
Trade the big turkey for this smaller, but super flavorful version flavored with a quick and easy lemon rosemary rub.
Homemade gravy doesn't have to be complicated! This recipe yields a perfect, lump-free gravy that guests will love.
Cheddar Bacon Twice Baked Potatoes
Toss the mashed potatoes from the menu and replace them with these delicious and decadent Cheddar Bacon Twice Baked Potatoes. And here's how to make these stress-free: do the first bake on the potatoes a day or two in advance. Then you only need to scoop, mix, fill and bake — which can be done while the turkey is resting.
Lemon Garlic Roasted Green Beans
Don't settle for boring green beans! These tender roasted green beans are roasted with zesty lemon wedges and warm garlic. Best of all, they can be made the day before and just reheated before serving.
Brussels Sprouts with Onions, Bacon and Cranberries
Filled with fall flavors, this is an easy recipe for Brussels sprouts that can be made the day before and reheated.
Cook up this Thanksgiving classic on a small, individually portioned scale. These Mini Sweet Potato Casseroles are also a perfect make-ahead dish to make your Thanksgiving stress-free.
You May Also Want …
When your guests ask if they can bring anything, say yes! Here are some ideas of items you might want them to bring:
A salad
A cheese plate to munch on before dinner
Pie for dessert