Morning (or lunchtime!) eggs get a delicious makeover in this Roasted Portobello Mushroom Breakfast Stacks with Canadian Bacon. Quick, easy and delicious, this skinny recipe is so satisfying.
This was developed for Jones Dairy Farm.
Raise your hand if you made a New Year's resolution to lose weight. (Yes, my hand is up!) It's among the most popular resolutions every year — and for good reason.
Unfortunately, for many, it just won't happen.
Maybe they aren't ready. Maybe they can't seem to break their bad eating habits. Maybe they aren't moving nearly as much as they think they are.
But you? I think you can do it. And so can I. We just have to be mindful about what we're eating. And I mean everything we're eating. For me, that means counting calories again and being totally militant about how much food I eat.
My husband thinks it's funny that my present efforts include the occasional Double Stuf Oreo and adult beverages — but if I want to make a success of this, I can't deprive myself. I can limit myself and make smarter choices with what I eat though.
This Roasted Portobello Mushroom Breakfast Stacks with Canadian Bacon is a perfect example. Normally, I would serve something like this on a biscuit or English muffin. But the truth is that a roasted portobello mushroom provides a similar vehicle for getting the cheesy, bacon-y, runny egg-covered deliciousness to my mouth. It's hearty and filling, and totally lick the plate clean good.
Before anyone says something about a mushroom being nothing like a biscuit, you are right. Texture and flavor-wise, it's different. But it's this difference that enhances the whole thing.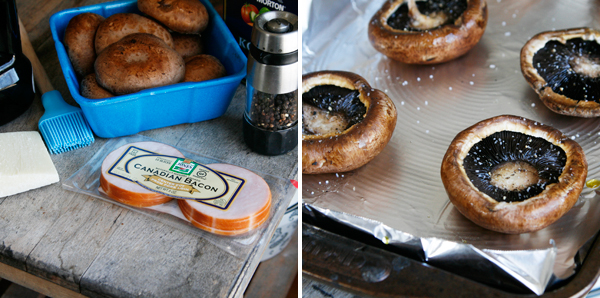 You start by roasting some meaty portobello mushrooms. Just remove the stems (hint: chop them for a delicious stir-fry add-in later) and brush them with love oil. Don't forget a sprinkle of salt and pepper too. And then roast for 20-25 minutes, turning once.
Once they are done, sprinkle with a little freshly grated Romano cheese. Finally, heat up slices of Canadian Bacon (did you know that it's a healthier option than traditional bacon? And it fits so neatly on the mushroom!) and cook some eggs (think runny yolks — I made mine over easy, but poached would be awesome with this too). And stack it all together. Finish the whole thing off with another sprinkle of Romano … and heaven.
Of course, I used the Canadian Bacon from Jones Dairy Farm for this. As you might remember, I am super excited to be a blog ambassador for them this year. And this Canadian Bacon is so tasty.
Ready to dig in?
Roasted Portobello Mushroom Breakfast Stacks with Canadian Bacon
Ingredients
8 Portobello mushrooms, stems removed
1 tbsp extra virgin olive oil
Salt and pepper, to taste
1/2 cup freshly grated Romano cheese
8 eggs
8 slices Jones Canadian Bacon, 1 package
Instructions
Preheat the oven to 400 degrees. Line a baking sheet with nonstick aluminum foil. Gently wipe the Portobello mushroom caps with a damp papertowel and then place, gill side up, on the baking sheet. Brush lightly with olive oil and sprinkle with salt and pepper.
Slide into the oven and roast for 10 minutes. Flip the mushrooms and roast for an additional 10-15 minutes until softened and browned. Remove from the oven and flip gill side up again. Sprinkle with about half of the Romano cheese. Set aside.
Now, it's time to cook the eggs. I am going to leave that up to you – but I highly recommend a runny yolk via poaching, over-easy cooking or frying.
Meanwhile, heat a large nonstick skillet over medium heat. Add the Canadian bacon and cook until golden, flipping once – about 1 minute.
To serve, place two Portobello mushroom caps onto each of four plates. Top each with a slice of Canadian bacon, an egg (prepared, of course – see above) and a sprinkle of Romano cheese. Serve immediately.
---
Disclosure: I was compensated for creating this recipe. All opinions are my own.