This recipe for a delicious Jones Dairy Farm Family Ham with a quick and easy recipe for a 3-ingredient glaze is perfect for all your holiday celebrations. This was created for my client but all opinions are my own.
You know what happens when you've been making your family's Easter brunch for the better part of a decade? Eventually it becomes such second nature that you don't even think about it until you realize Easter is two days away, and you should probably at least make a shopping list. Or, that's what happened to me.
See, our Easter menu has been virtually the same for years. Easter ham. Creme Brulee French Toast. Fruit cup. Something eggy. Asparagus. Repeat.
And it's stayed that way because while Thanksgiving is my holiday to experiment, go crazy and get creative, Easter is deeply rooted in tradition. It's comforting in a way. Plus, it makes it easier on me.
But there's something to be said for changing things up a little. Sometimes, you have to break out of the same-old in favor of something new and fabulous.
This year, there will be the usual French toast. Fruit cup. Something eggy. But the ham? It's getting a little makeover. As much as I love our tradition, there's a glaze I've been working on that is too good to skip.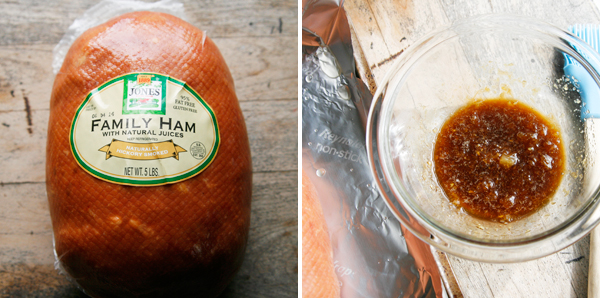 Pineapple Ginger Glaze is a quick and easy recipe with just three ingredients. Three! And on a scored Jones Dairy Farm Family Ham, it lends a sweet-salty flavor to the perfectly smoked meat. Heavenly. The combination of pineapple, ginger and a touch of soy sauce makes this absolutely craveworthy.
It takes just a few minutes to whip up the glaze and then you score the meat, brush some on, bake, brush some more on, bake and brush the rest on. One last turn through the oven and this ham is ready to be enjoyed.
And trust me, you will enjoy it.
Pineapple Ginger Glazed Ham
Cook Time:
1 hour
30 minutes
Total Time:
1 hour
40 minutes
Ingredients
2 tbsp pineapple preserves
1 tbsp soy sauce
1 tsp ginger paste
1 Jones Dairy Farm Whole Family Ham
Instructions
Preheat the oven to 350 degrees. Line a baking sheet with aluminum foil (nonstick recommended – or spray regular aluminum foil with cooking spray).
In a small bowl, whisk together the pineapple preserves, soy sauce and ginger paste.
Score the Jones Dairy Farm Whole Family Ham by slicing a diamond pattern into the curved side (about 1-inch between cuts). Place on the prepared baking sheet and brush with 1/3 of the pineapple mixture.
Bake for 30 minutes. Brush with 1/3 of the pineapple mixture and return to the oven. Repeat, and cook for 20-30 minutes more, or until an internal temperature of 145 degrees is reached.
Slice and enjoy!