A tangy dressing recipe for Romano Rosemary Lemon Vinaigrette using Pompeian olive oil is perfect for spring salads.
This recipe was created for a client, but all opinions are my own.
A salad. A light, tangy lemon vinaigrette. The warmth of the sunlight streaming through the windows.
Spring is all about renewal. It's the season where we throw open the windows and air out the houses. We clean up from a long winter and tuck away the coats and hats. It's freeing — like a lightening of the soul. It's also the time of year when salads seem like the perfect food. Well, they do to me anyway. Spring (and summer) just go hand in hand with light but filling salads … And homemade vinaigrettes too.
Speaking of salads and homemade vinaigrettes, this is a dressing recipe you want to make. Romano Rosemary Lemon Vinaigrette is a tangy but light vinaigrette. Fresh lemon juice (that's key!) combines with earthy rosemary, sharp Romano cheese and smooth olive oil for a perfect springy dressing for all your salads.
Making it is simple — just combine the ingredients in a bowl and whisk them together. It takes mere minutes.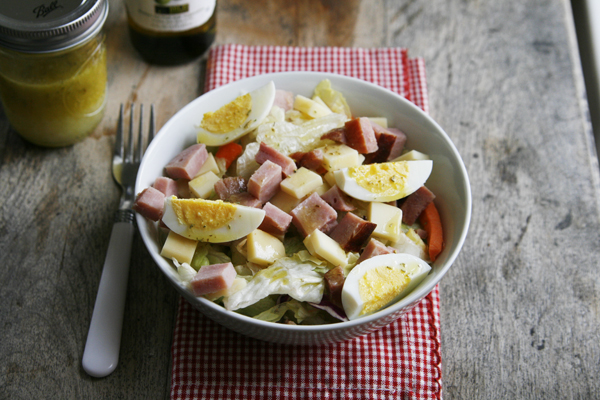 It's fabulous served on fresh, hearty salads, like this take on a chef's salad with diced ham, diced cheddar and hard-cooked egg. It would also be lovely on a spinach salad or a nice tossed salad.
Recently I was asked to be a blog ambassador for Pompeian, makers of oils and vinagers. I cook almost exclusively with olive oil, and love Pompeian's extra virgin olive oil, so I said absolutely. And this month, I got to try one of the varieties in the Pompeian Varietals Collection, which are special extra virgin olive oils. The mild Arbequina variety was perfect in this recipe. What's interesting about this collection is that these are single-variety olive oils meaning that the olives are all of the same variety. You can learn about the oil's trip from olive to bottle too (so fun!) at www.Pompeian.com/TreeToBottle.
There are three varieties available in the Pompeian Varietals Collection:
Arbequina – a mild-bodied extra virgin olive oil with a round taste of mature fruitiness and a delicate sweetness of almonds, ideal for fish and vegetables
Koroneiki – a full-bodied extra virgin olive oil with robust fruitiness and a sensation of fresh cut grass leading to a peppery finish, perfect for soups and salads
Picholine – a medium-bodied extra virgin olive oil with a green fruitiness, hints of herbs and a pleasing balance of bitterness, great for meats and sauces
I cannot wait to share more about the Pompeian oils and vinegars in the coming months.
And now … try this dressing!
Romano Rosemary Lemon Vinaigrette
Ingredients
Juice of 1 lemon
1/4 cup Pompeian Varietals Collection Arbequina extra virgin olive oil
1 tbsp freshly grated romano cheese
1 tsp fleur de sel
1/2 tsp dried rosemary
Instructions
In a small mixing bowl, whisk together all ingredients until well combined. It should be cloudy in appearance. Spoon over salads. Leftovers can be stored in an airtight container in the fridge for up to five days.
---
Disclosure: I am being compensated for my partnership with Pompeian but all opinions are my own.
Sarah Walker Caron is a cookbook author, freelance writer and founder of Sarah's Cucina Bella. She is the author of four cookbooks including The Super Easy 5-Ingredient Cookbook and One-Pot Pasta, both from Rockridge Press. A single mother to a tween and a teen, Sarah loves nightly family dinners, juicy tomatoes plucked fresh from the vine and lazy days on the beach. She also adores reading and traveling.