Making homemade muffins for breakfast doesn't have to be time-consuming or create a disaster in the kitchen. These One-Bowl Banana Pistachio Muffins are quick and easy — and delicious too.
This recipe was created for my client, Diamond of California, but all opinions are my own.
Sometimes I wonder what the cashiers at our local grocery store must think when I appear in line. I am there pretty much every day and at least once a week (often more), I buy several huge bunches of bananas at once. While I think they are probably used to seeing me so frequently, I think it's the bananas that might throw them off a bit.
I really do buy a lot of them — mostly because we consume a lot of them. The kids and I each eat a banana a day most days — so we go through a minimum of 15 bananas each week — but usually more than 20.
I know. It's a lot.
And when I want to bake with bananas, that means we use even more. But who can resist the allure of tender banana muffins hot from the oven? And even better if they are dotted with meaty chopped pistachios — like in these One-Bowl Banana Pistachio Muffins.
Making these muffins is so easy — especially since they make a very tidy 12-muffin batch. I hate when muffin recipes require you to make 18 or more muffins because it means you need more than one muffin tin — and seriously, does anyone need that many muffins at once? Really?
Anyway, you whisk together the wet ingredients, stir in the dry ingredients and then add the banana and pistachios. Then into the muffin tin it goes. Bake for a little more than 20 minutes, and you have a batch of lightly sweetened, delicious, really to inhale One-Bowl Banana Pistachio Muffins. All in all, these can be ready in about 30 minutes. Easy peasy.
Could it be any easier?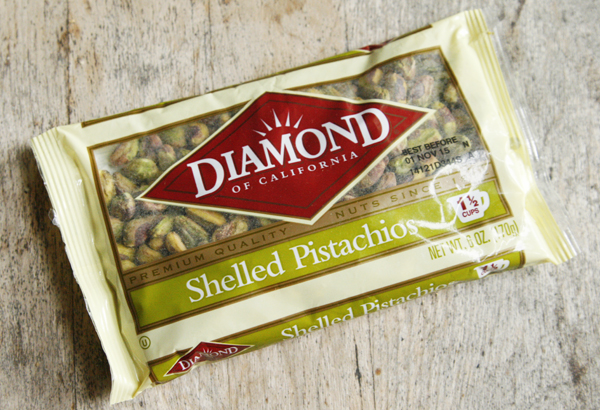 Actually, there is one thing that really does make this easier: Diamond of California's new shelled, raw, unsalted pistachios. I love that these pistachios come already shelled, saving time and fingertips when you want to use them in baking. Recipe ready? Yes, please! Just chop them up and stir them in (can you imagine having to shell all those nuts?).
Want to dig in? Warm from the oven, these are so good spread with a little butter. Or store them in an airtight container for up to five days. Either way, just dig in … because these muffins are seriously good.
One-Bowl Banana Pistachio Muffins
Ingredients
1 large egg
1 cup milk
1/2 cup canola oil
2 cups all-purpose flour
1/3 cup granulated sugar
1 tbsp baking powder
1/2 tsp kosher salt
1 tsp vanilla extract
2 bananas, mashed
1/2 cup Diamond of California Shelled Pistachios, roughly chopped
Instructions
Preheat the oven to 400 degrees. Line a 12-slot muffin tin with muffin liners. Set aside.
In a large bowl, whisk together the egg, milk and oil. Add the flour, sugar, baking powder, salt and vanilla extract. Stir until just combined. Add the mashed banana and chopped pistachios. Stir to combine.
Divide the batter evenly among the 12 muffin liners.
Slide the muffin tin into the preheated oven and bake for 20-25 minutes until golden. A toothpick inserted into the center of the muffins should come out cleanly.
Remove from the oven. These can be enjoyed immediately, or stored in an airtight container for up to five days.
Disclosure: I was compensated for creating this recipe but all opinions are my own.