These tender, spicy hot wings have a rich, layered flavor that will have you licking your fingers and reaching for more. Make this Spicy Habanero Hot Wings recipe!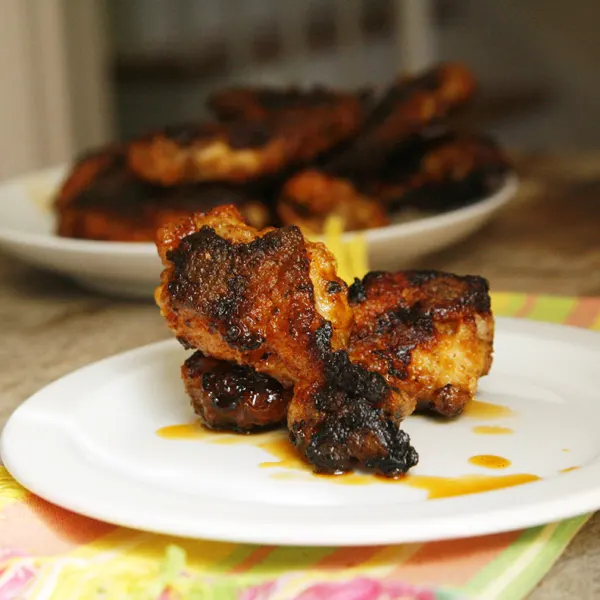 The best things come to those who wait. Patience is a virtue. Rome wasn't built in a day. There are so many sayings and quotes that all boil down to the same sentiment: having patience means good things. Even in the kitchen. Yes, I went there. Because we all know I like quick and easy recipes with maximum flavors. But sometimes even I have to make an exception — and these wings? Totally exception-worthy.
Because, I mean what spice-loving girl doesn't adore hot wings? Amiright?
So, yes, this is a longer process to make these things. It takes two days — but fortunately it's very hands-off.
On the first day, you rinse your wings and then put them in a marinade of buttermilk and chopped jalapeno pepper. Seal 'em up and chill for 24-hours. They need that time to mingle with the flavors.
On the second day, you whip up a quick flour mixture of all-purpose flour mixed with chipotle pepper powder, salt and pepper. Then you coat all the wings in it and put them on a cooking sheet that's been sprayed with cooking oil. Spray the wings with more cooking oil spray. Then bake them until they are good and crispy — flipping once.
Finally, you heat up some butter with habanero pepper sauce and a touch of dark brown sugar. Whisk it all together and get it good and combined. And then, finally, toss those crispy baked hot wings with your fab habanero wing sauce.
Then serve them. You could offer a little blue cheese dressing on the side. But in my family, it's all about the wings.
Choosing Your Hot Sauce for Spicy Habanero Hot Wings
In my first test of these wings, I used Melinda's XXXX Reserve Habanero Pepper Sauce. While it is a spicy sauce, I found that in the wing sauce recipe it created a slow heat that intensified over time. I loved the flavor of the sauce with this — and it made the wings very saucy. You could even see the seeds from the habanero peppers!
But for these wings, I was aiming for so-hot-you-tear-up. So on second testing, I used Tabasco Habanero Sauce and that rendered the desired affect (see the top photo). With the Tabasco Habanero Sauce, the wings were so spicy that I could only eat one at a time — and my sinus and tear ducts might have gotten a good clearing out too. The downside to these? With this habanero sauce, you get crispy hot wings. It just didn't create a saucy sauce.
So which is better? It really depends on what you want from your wings. The wings with the sauce made with Melinda's XXXX Reserve Habanero Pepper Sauce were finger-licking good and spicy — but the sauce was more nuanced so you could really dig in and enjoy them. But for those who have a serious addiction to heat, the Tabasco Habanero Sauce created much hotter hot wings. And they were still loaded with great flavor.
I'd probably opt for the former, but the latter was really good too.
Either way, just make these hot wings. You won't be disappointed.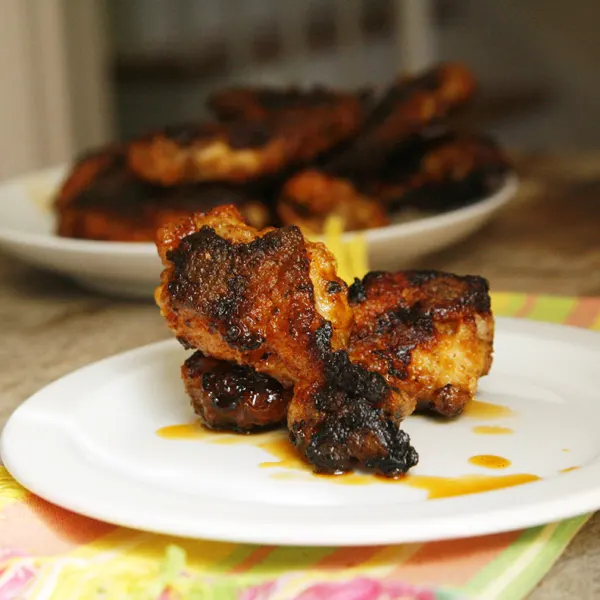 Spicy Habanero Hot Wings
These Spicy Baked Habanero Hot Wings take two days to make -- but they are totally worth every second.
Ingredients
3 lbs chicken wings
1 cup buttermilk
1 jalapeno, , chopped
Cooking oil spray
3/4 cup all-purpose flour
1 tsp chipotle pepper powder
1 tsp kosher salt
1 tsp ground black pepper
5 tbsp unsalted butter
1/2 cup habanero pepper hot sauce
1 tbsp dark brown sugar
Instructions
Rinse the chicken wings in water and place in a resealable bag. Whisk together the buttermilk and jalapeno and pour over the wings. Seal the bag and place inside a bowl in the fridge. Marinate for 24 hours.
Preheat the oven to 425 degrees. Line a baking sheet with nonstick aluminum foil. Spray with cooking oil spray
In a bowl for dredging, sift together the flour, chipotle pepper powder, kosher salt and black pepper. Remove the wings from the buttermilk marinade one at a time, and dredge all over with the flour mixture. Arrange on the baking sheet. Once all the wings have been dredged, spray them with cooking oil spray.
Bake for 25 minutes and then flip the wings. Bake for an additional 20-25 minutes until golden.
Meanwhile, in a small saucepan set over medium heat, whisk together the butter, habanero hot sauce and brown sugar until well combined. Bring to a boil and continue whisking for 3-5 minutes until smooth.
Remove the wings from the tray to a large bowl and toss well with the habanero wing sauce. Lay out on a platter. Enjoy.