This easy slow cooker recipe for Easy Slow Cooker Chicken and Shrimp Jambalaya is a family favorite that's perfect for busy families who enjoy delicious meals. To make it extra easy, prep the veggies ahead of time so you can toss it all in the slow cooker and go.
This recipe was created for my client, Uncle Ben's®, but all opinions are my own.
This Post Brought To You By The Uncle Ben's® Brand.
When I started my new job, so many things changed for my family. I'm not home all day anymore, so the kids are participating in summer camps for a few weeks. That means that the lazy days of summers past are a little more structured this year. Working outside the house also means that I don't have the same time (or energy) to cook every night. That's led me to quickly think of easy ways to get dinner on the table quickly.
My slow cooker is certainly getting a workout.
The great thing about using a slow cooker for dinner is that you basically just throw ingredients in and then let them cook themselves. So when Uncle Ben's® asked if I might check out one of their recipes and make it my own, I was all for it – especially since several of them were for the slow cooker.
Easy Slow Cooker Chicken and Shrimp Jambalaya is my version of an Uncle Ben's® recipe. I've changed up the ingredients a little bit, and upped the spice factor. But with chicken, shrimp, carrots and potatoes – all with rice — this is a meal the whole family can love.
To make this one extra easy, I enlist the help of the kids, who help chop and mix the ingredients in a covered bowl for the fridge. We can do this the night before or in the morning – and then I just have to run home and dump it all in the slow cooker at lunch time to start it.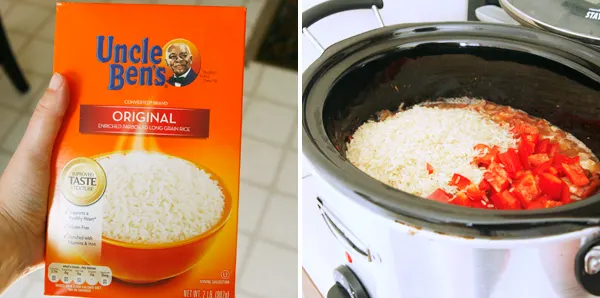 By the time we get home at the end of the day, it's nearly ready to go. We just have to stir in Uncle Ben's® Instant Rice (a huge timesaver!) and some red peppers … and then let it cook just a little more. Stir in the shrimp and you are ready to roll.
The best part? Since there is little to do to finish getting dinner ready, we have plenty of time to catch up on our days, play board games and laugh together. And ultimately those are the moments that matter most.
Easy Slow Cooker Chicken and Shrimp Jambalaya
Ingredients
1 lb boneless, skinless chicken breasts, cut into a 1-inch dice
2 cups thinly sliced carrots
1 cup quartered new potatoes
1 large onion, diced
1 14.5- oz can diced tomatoes
1 cup chicken stock
1/3 cup tomato paste
1 tbsp. Cajun seasoning
2 cloves garlic, minced
1/2 tsp kosher salt
1 1/2 cups uncooked Uncle Ben's® Instant Rice
1 cup diced red bell pepper
8 ounces fresh or frozen peeled and deveined cooked shrimp*
Instructions
In the bowl of a slow cooker, combine the chicken, carrots, potatoes, onion, tomatoes (with juice!), broth, tomato paste, Cajun seasoning, garlic and salt. Stir well.
Cover the slow cooker and set to low heat. Cook for 5 hours.
Increase the slow cooker heat to high and stir in the rice and bell pepper. Cover again and cook for an additional 30 minutes, or until the rice is tender. Most of the liquid should also be absorbed.
Stir the shrimp into the slow cooker.
Serve immediately.
---
Disclosure: I was compensated for creating this recipe, but all opinions are my own.