Creamy, crunchy, sweet and fruit: this Sauteed Banana, Granola and Yogurt Parfait has it all. And it's ready in just five minutes.
This shop has been compensated by Collective Bias, Inc. and Quaker. All opinions are mine alone. #CollectiveBias #LoveMyCereal #QuakerUp
For all the many times I tried to lose weight in the past, there was always some roadblock that sent me back in the other direction. And then some. Until last December, when my weight hit an all-time, non-pregnancy high, and something clicked inside me. Finally, I knew to the depths of my soul that enough was enough.
And I changed. One year later, I am significantly lighter, healthier and happier.
You know what else changed? What I ate.
And when it comes to breakfast, when I eat it (and I confess, it's still not an everyday thing), I like it to be easy, fast and tasty. Also, it needs to be portable — since I usually don't eat until I get to my office in the morning. And if it's a balanced bite that incorporates several food groups? All the better.
This quick and easy breakfast parfait starts with vanilla yogurt — choose your favorite type (I go with regular nonfat yogurt, but if you love Greek, use it!). It's layered with sweet sauteed bananas and crunchy granola, creating a mix of warm, cold, creamy and crunchy that's hard to resist. And since I make it in a jar, it's perfect for taking to work to enjoy there.
Quaker® challenged me to create a delicious recipe showing how I incorporate their delicious breakfast products into my morning. Although any of their cereals — Quaker® Real Medleys®, Quaker® Oatmeal Squares, Quaker® Simply Granola and Quaker® Life — could work for this, I love the crunch factor (and the lightly sweetened flavor) of the Quaker® Simply Granola Oats, Honey and Almond flavor. It's just right.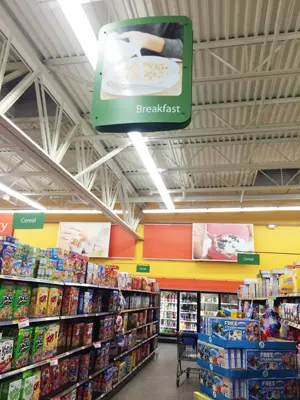 Making this is so simple. If you have a spare few minutes in the morning, then you can whip this up for a fabulous grab and go breakfast.
First, get out your ingredients (psst! I was able to get all of these at Walmart) — you'll need the Quaker® cereal, a banana, a yogurt, a touch of oil and a little light brown sugar. Then, slice that banana (make sure it's a just-ripe or slightly-underripe one).
Saute the banana in oil, flipping once and sprinkling with brown sugar just before they are done. They should soften but not totally lose their shape.
Finally, layer the yogurt, bananas and granola in a Mason jar, ending with a layer of granola. Seal it up (if you are taking it with you) and you're good to go. If you won't be eating it right away, chill it until you are ready to enjoy — or, just dig right in.
It's that easy.
Do you ever whip up yogurt parfaits for breakfast? What's your favorite variety?
Sauteed Banana, Granola and Yogurt Parfait
Ingredients
1 tsp olive oil
1 just-ripe or slightly underripe banana, sliced into 1/4-inch thick pieces
1 tsp light brown sugar
1 container (individual size) vanilla yogurt
1/2 cup Quaker® Simply Granola Oats, Honey and Almond
Instructions
Heat a small skillet over medium heat on the stove. Add the olive oil. Once the oil is warm, add the banana sliced in one layer. Cook for 1-2 minutes, until slightly softened on the bottom and then gently flip. Sprinkle with brown sugar and cook for an additional 1-2 minutes. The bananas should be softened but still hold their shape. Remove from heat.
In a small Mason jar, layer yogurt, bananas and granola twice. Top with the remaining yogurt and granola. Enjoy immediately, or seal and chill until ready to enjoy.