A sweet-salty rub gives this Broiled Sockeye Salmon recipe an unforgettable crust. Best of all, it's a quick and easy crowd-pleaser dinner.
"Mmm. I love salmon," Paige said the other evening as we sat down to dinner. Our plates were filled with a vegetable medley of romanesco broccoli and cauliflower, rice and a slab of this Broiled Sockeye Salmon.
She and Will then devoured every last bite.
The sockeye salmon recipe is so simple — you mix up a rub using just a few ingredients and slather the salmon with it. Then you broil it for a few minutes. That's all it takes to make this sockeye salmon recipe perfect for weeknight dinners. Simple, but totally delicious.
But you know what I really love about fish like salmon? It cooks ridiculously fast. After a long day, that's pretty much awesome.
And in terms of flavor, I love the way broiling impacts the taste. In my opinion it is the absolutely best way to cook sockeye salmon
Recipes like this make dinnertime a breeze especially since they are enjoyed by everyone around my kitchen table.
Score one for mom.
Lucky for me, seafood is an easy sell in my house. Perhaps it's because we live in New England, where seafood has always been an ingrained part of our diet — clam shacks and seafood joints are everywhere on the coast from Connecticut to Maine. And we love them when it's warm and sunny.
Of course, it's winter. In the summertime, fresh seafood is plentiful here in Maine. But in winter? Not so much. Fortunately, there are some great flash-frozen varieties that taste great. My kids are huge fans of salmon, so recently when we were looking for fish for dinner, I picked up some frozen sockeye salmon filets from Alaska.
Alaska's cold water and environment produces fish that are lean with a firm texture and lots of flavor. And, of course, seafood is a great source of protein, vitamins and minerals. Moreover, Alaska employs strict conservation practices to ensure that fish is ethically harvested. It's no wonder that it supplies nearly 60 percent of seafood consumed in the United States.
And the fact that salmon is rich in Omega-3 fatty acids, which are good for your overall health? Even better.
Does your family love seafood too?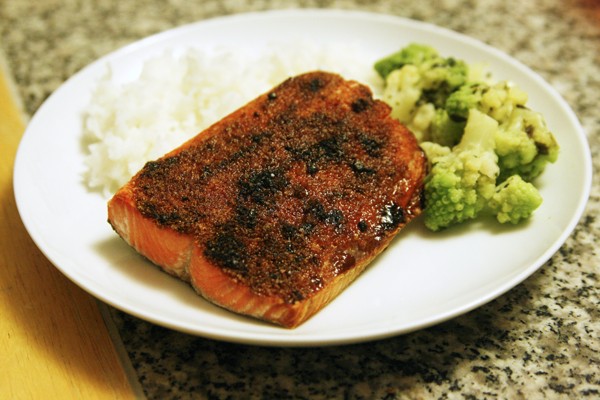 Broiled Sockeye Salmon
Alaskan Sockeye salmon is broiled with a sweet-salty rub in this quick and easy recipe for Broiled Sockeye Salmon. Perfect for dinner!
Ingredients
1 tsp kosher salt
1 tsp light brown sugar
1 tsp smoked paprika
1 tsp ground ginger
4 4- oz filets Alaskan Sockeye Salmon, , skin on
Instructions
Preheat broiler on its high setting.
In a small bowl, mix together the salt, brown sugar, paprika and ginger.
Rinse the salmon filets under cool water and pat dry. Arrange on a baking sheet (I line mine with nonstick aluminum foil for easy cleanup). Rub each of the filets with 1/4 of the seasoning mixture on the top only.
Broil for 6-8 minutes, or until cooked through. Let sit for 10 minutes before serving.
---
I was selected for this opportunity as a member of Clever Girls and the content and opinions expressed here are all my own.