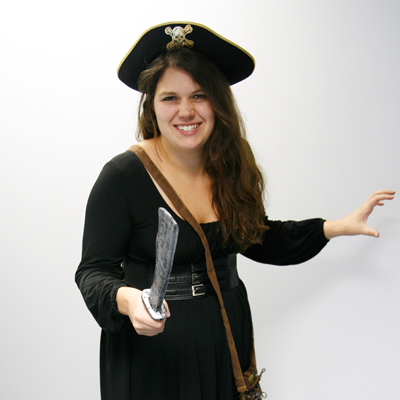 This is an easy to put together DIY female pirate costume that uses some staple wardrobe pieces. This isn't just for Halloween (or Talk Like a Pirate Day) though. You'll be able to wear most of the costume again throughout the year since it incorporates an LBD, boots and a belt you may already own.
Looking for more costume ideas? See my tutorial for an easy DIY Fairy Costume.
You need:
1 black dress with puffy sleeves (such as the empire waisted one from NY & Company that I am wearing here)
1 black corset belt
1 pair knee-high black boots
Pirate hat
Fake sword (uh, yes, it needs to be a fake)
Optional:
pirate flask
eye patch
hoop earrings/earring
Hair and Make-Up:
Messy, wild hair is needed for this female pirate costume. I dried mine with a diffuser and sprayed it with David Babaii for Wildaid Bohemian Beach Spray.
Dark eye make-up, such as black eyeliner lining both upper and lower lids. Black mascara.
Sarah Walker Caron is a cookbook author, freelance writer and founder of Sarah's Cucina Bella. She is the author of four cookbooks including The Super Easy 5-Ingredient Cookbook and One-Pot Pasta, both from Rockridge Press. A single mother to a tween and a teen, Sarah loves nightly family dinners, juicy tomatoes plucked fresh from the vine and lazy days on the beach. She also adores reading and traveling.