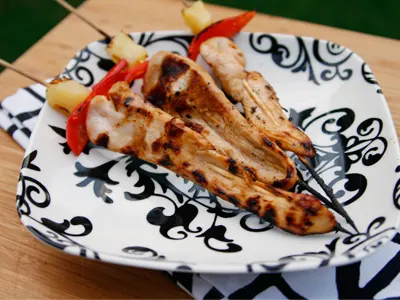 Ahoy, me hearties. Today be buccaneer tide at me office. Me work shipmates an' I dressed up like sea dogs. Thar be sea dog foods, games an' treasure. It be a great, grand day.
I'm a big, huge, gigantic pirate fan. After hearing legends as a child of Captain Kidd allegedly burying treasure off the New England coast, I just fell in love with the lore and romantic pirate histories. Of course, the reality was far less romantic. My interest is more Captain Jack Sparrow than real-life pirates. (And for the record, I know that real-life pirates are nasty … nothing like Jack.)
When my editor suggested we have a pirate party to celebrate Talk Like a Pirate Day this week, I was all for it. I might have yelped in glee, but who's counting? Today was our party (though the actual day was Sept. 19).
This was our treasure chest — filled with a few fun prizes for the pirate trivia game (I won!) and the hook game (we had to use a homemade hook hand to pick up five pretzels. That takes skills. Did I mention that my coworkers are awesome?
Oh, and of course we dressed up. Why would anyone skip the opportunity to dress like a pirate? Arggggg!
For my contribution to lunch, I brought a plate of Chicken Daggers, a fun take on skewers that are fashioned after daggers (as in the knife). My coworkers brought fun pirate foods like anti-scurvy fruit salad and walk the plank cookies.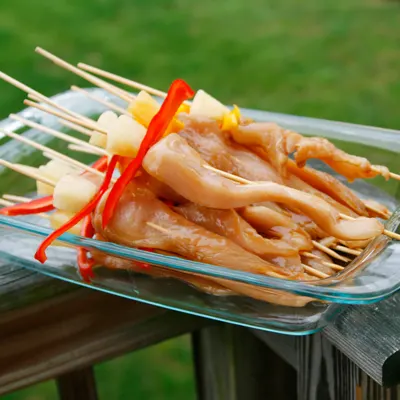 Making them is simple – you marinate strips of chicken (I cut mine from chicken breasts) until they are filled with flavor. Then you thread the chicken onto skewers with a thick slice of pepper and a pineapple chunk (the dagger handle). Once that's all done, all you need to do is cook them.
Fun, right?
And hey, these aren't just for Talk Like a Pirate Day. They're perfect food for a Halloween party. Think how awesome the daggers would look on a spooky buffet.
Chicken Daggers
Total Time:
2 hours
25 minutes
Ingredients
1 lb boneless skinless chicken, , cut into strips
jerk or teriyaki marinade
thick-sliced peppers
pineapple chunks
Special:
wooden skewers, , soaked for 30 minutes right before using
Instructions
Place the chicken into a resealable bag and add marinade to coat. Seal the bag and chill for 2 hours.
Prepare the daggers: Thread one strip of chicken onto each skewer, followed by a pepper slice and a pineapple chunk. Repeat until all the chicken as been used.
Heat your grill to its medium setting. Once it's hot (about 5 minutes), cook the skewers for 3-5 minutes/side until cooked through. Remove from the grill.
Serve hot or cold.