Looking for a fresh idea for dinner? These 35 creative chicken pasta recipes will liven up your meal.
We eat a lot of chicken. Cilantro lime chicken. Lemon garlic chicken. Teriyaki chicken. Several nights a week find me handling raw chicken, hoping to make it exciting enough for dinner — because when you eat something that much, variety in cooking really matters.
We also love pasta. Hugely. So every so often, I try to combine the two.
These chicken pasta recipes are a great way to change up the chicken routine.
A creamy smoked gouda cheese sauce bathes pasta, chicken, sundried tomatoes and roasted red peppers in this craveworthy, but totally decadent baked pasta dish. It's perfect for serving a crowd.
This flavorful, easy recipe goes to show that you don't need a lot of ingredients to whip up something delicious for dinner. Best of all, it's ready in about 30 minutes.
Do you see how cheesy this dish is? We're talking super cheese, cheese-lovers paradise. It makes me want to dig right in. Right this second. And with roasted tomatoes and chicken? Yum. Yum. Yum.
This tempting pasta is cooked all in one pot, with the fettuccini simmering to tenderness in a tomato-brown ale sauce. Sounds amazing, right?
Easily one of my daughter's all time favorite dishes, this pasta salad is quick, easy and full of bold flavors. And it has bacon, so how could you go wrong?
Rich chicken marsala with all its pancetta, mushroom, wine goodness is served over a creamy macaroni and cheese for a stepped up version of a childhood favorite. Cheese and wine lovers rejoice!
A little sauteing. A little cooking of the pasta. A little tossing together. This tangy, lemony pasta recipe is super easy, and so tasty too.
I love a good fragrant chicken recipe, and this is that in spades. Pinot noir wine gives this chicken pasta recipe a special richness, with a hint of pepperiness. It's delightful, and easy too.
Chicken noodle soup is comfort food. And so is pasta for many folks, myself included. So why not combine the two into a tasty casserole? The noodles are even cooked in the chicken stock for extra flavor. Sounds good, right?
When the weather turns warm, and farmers market tables are overflowing with produce, this is a great recipe to have on hand. Fresh veggies are sauted, mixed with cajun spiced chicken and tossed into a tasty, light pasta dish.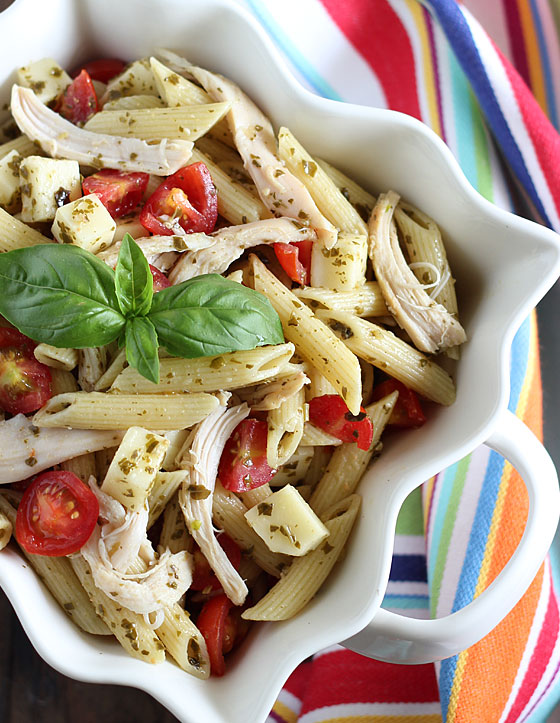 Simple ingredients come together in this creative pasta salad recipe. If you make it, go for the best fresh mozzarella you can, and cube it … it will make this dish shine.
More Divine Chicken Pasta Recipes
Find More Excellent Pasta Recipes
Follow Sarah Walker Caron's board Pasta Night Recipes on Pinterest.
What's your favorite chicken pasta recipe? Share in the comments!