Looking for a change-up from your taco routine? Try these slow cooker shredded chicken tacos — with bold flavors including poblano peppers, they are delightful.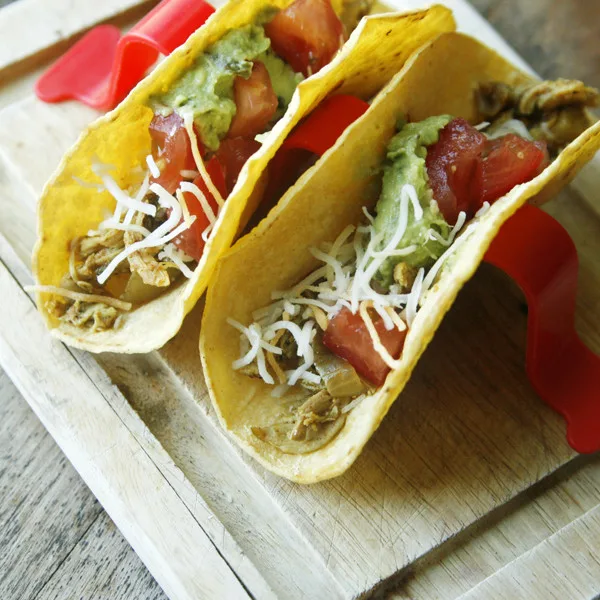 This post is brought to you by Sargento. All opinions are my own.
Have you ever watched the cooking show "Chopped"? It appears on Food Network, and pits chefs against chefs to create amazing dishes using mystery ingredients in a short amount of time. Those mystery ingredients are delivered in a basket at the start of each round, and they have to get creative swiftly.
It's rapidly moving and exciting to watch as the chefs figure out how to make the various ingredients work together to craft a dish that tastes good and impresses the judges. Hopefully, at least.
Last fall, I got a taste of what a competition like this is like when I judged the Maine Chef Challenge. Using a format similar to "Chopped," three teams of chefs from Maine restaurants competed against each other in a three-course competition. Much like the TV show, they were given a list of potential mystery ingredients ahead of time, but didn't know what they'd be cooking with until just before they began cooking.
It was so interesting to watch, taste and judge.
There's a lot of creativity and thinking on the fly that goes into a competition like that. Do you take the obvious route with ingredients? Or do something wildly creative? There are pros and cons to both approaches.
Chopped At Home Challenge
When Sargento® recently asked me to share the news about their Chopped At Home Challenge by creating a recipe that would fit the rules of the competition, I was psyched. I love challenges, and although I can't enter the contest myself, it was fun to imagine a dish for it.
For round 2, the theme is Mexican, and I was required to use Sargeanto 4 Cheese Mexican shredded cheese, corn tortillas, poblano peppers and chicken thighs.
So, what'd I come up with?
I debated several ideas that would have used the poblano peppers in different ways — filling them, sauteing them, roasting them. But ultimately, I decided that together with onions, seasoning and the chicken, they would be best as part of the flavor for a tasty slow cooker chicken taco filling.
It was definitely the obvious route for a dish, but the juicy, flavorful tacos were so worth it.
Boneless, skinless chicken thighs cook atop a bed of chopped onions and poblano peppers, blanketed in a homemade taco seasoning. The process creates a juicy, fall-apart tender filling with a zesty flavor that hints at spiciness without being too spicy. Even my daughter, who hates anything with a hint of spiciness, enjoyed this.
The seasoning mix for the slow cooker shredded chicken tacos takes about a minute to make with spices you may already have in the spice cabinet. Mix them up and pour them over the chicken. It both coats the chicken and flavors the juices that you'll mix the shredded meat into later.
Once it's all cooked, you shred that chicken with two forks. Be sure to use a plate with a rim to avoid losing any juices (or making a mess). It will take a few minutes, but is worth it to have just the right size shreds for taco filling. Then you mix the chicken back into the slow cooker with the juices and veggies, stir it together and let it simmer a little longer.
Heat the corn tortillas before you use them. The package directions for microwaving them, but I really like a quick pan fry, if you have time. You can also heat them in the oven.
Once everything's ready, fill your tacos as desired with the chicken mixture, tomatoes, guacamole and whatever else you like. I often use lettuce and hot salsa in mine too. I like to put out the chicken in a bowl, with all the fixings so everyone can create their own ideal taco.
And, of course, don't forget the cheese. I used Sargento 4 Cheese Mexican blend in this, which is a combination of shredded Monterey jack, cheddar, queso quesadilla and asadero natural cheeses. The combination of flavors is mild, but creamy, and a perfect complement for the zesty chicken filling.
Are you a fan of Sargento cheese? I am, and I always get the fine cut shreds for tacos. Available in 30 varieties including standards like Sharp Cheddar, unique blends and even cuts of cheeses, I love that Sargento is cut from blocks of 100 percent real, natural cheese.
How do you like your tacos?
For more inspiration, check out the Sargento Pinterest page or visit www.sargento.com/Shredded for more information.
Slow Cooker Shredded Chicken Tacos
Cook Time:
4 hours
20 minutes
Total Time:
4 hours
35 minutes
Ingredients
1-2 poblano peppers, seeds removed and chopped (I use one for a milder taco, two for slightly zestier)
1/2 cup chopped onion, about 1/2 an onion
1 1/2 lbs boneless, skinless chicken thighs, trimmed
Seasoning
1/2 tbsp cumin
1/2 tbsp kosher salt
1 tsp Ancho chile powder
1 tsp garlic powder
1 tsp smoked paprika
1/2 tsp ground black pepper
1/4 tsp turmeric powder
Tacos
corn tortillas, heated according to package instructions
toppings such as chopped tomatoes, shredded lettuce, roasted corn, guacamole, salsa
Sargento 4 Cheese Mexican Cheese
Instructions
In the bowl of a slow cooker, layer the poblano pepper and onions. Place the chicken thighs on top.
In a small mixing bowl, stir together the cumin, salt, Ancho chile powder, garlic powder, smoked paprika, black pepper and tumeric. Sprinkle evenly over the chicken.
Cover the slow cooker, and cook on low for 4 hours. Remove the chicken to a rimmed plate, and use two forks to thoroughly shred into bite-size pieces. Mix back into the slow cooker with the peppers, onions and juices. Stir well. Cover, and cook for an additional 20 minutes on low.
Transfer the chicken mixture to a serving bowl. Serve with warmed corn tortillas, desired toppings and Sargento cheese, allowing everyone to make their own unique taco combinations.
Enjoy!
This is a sponsored conversation written by me on behalf of Sargento. The opinions and text are all mine.