Sweet, tart homemade lemonade is a refreshing drink for sipping on hot summer days. This fresh lemonade recipe makes four servings and is perfect for a small pitcher.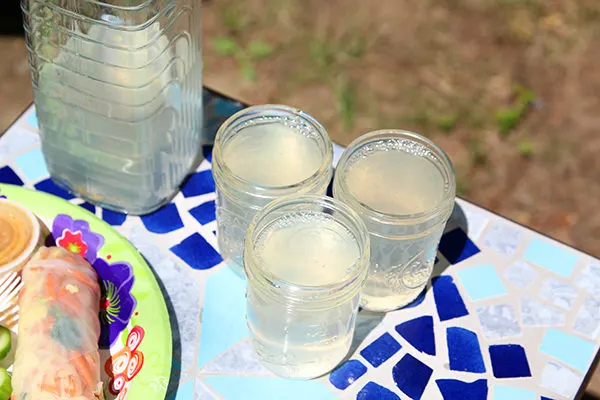 "Don't let perfection be the enemy of good."
This English variant of a Voltaire quote is something I have to remind myself from time to time.
Such was the case with our backyard. Perfection would be purchasing finely crafted wooden Adirondack chairs, carefully painted a soft grey or bright white. Perfection would be waiting to find just the right side table or tables to nestle between them. But in questing for that ideal, summer is beginning and we've had nothing to sit in outside.
Someday I will have the handmade chairs and they will be glorious.
But for now, I've settled for good — with a side of being able to actually sit outside and enjoy the fine June weather and a glass of homemade lemonade.
Good, in this case, looks a lot like four teal plastic Adirondack chairs and a mosaic side table the kids picked out. Good also looks a lot like something that makes me pretty darn happy.
One of the many reasons I wanted to move was to have outdoor living space. Now, we can finally really use it.
Speaking of a fresh lemonade recipe, this makes a small batch of four approximately 1-cup portions, perfect for enjoying outside on a hot day (we did!). If you haven't make homemade lemonade before, fear not: it's easier than it sounds.
How to make this fresh lemonade recipe
Start with three fresh lemons. Juice them.
Make a simple syrup by heating together equal parts sugar and water until it looks clear — 1/2 cup for a less sweet, more tart lemon or 2/3 cup for a sweeter version. My kids, who usually like tart lemonade, were pleasantly surprised by the sweeter one.
Then mix together the lemon juice, simple syrup and water in a pitcher. Chill until you're ready to serve.
That's it. You've now made this homemade lemonade recipe and you get to enjoy it. Yippee!
This is great served over ice, though that's certainly not necessary.
Small Batch Homemade Lemonade
Sweet, tart homemade lemonade is a refreshing drink for sipping on hot summer days. This recipe makes four servings, and is perfect for a small pitcher.
Ingredients
3 2/3 cups water, (divided)
2/3 cup granulated sugar
3 lemons
Instructions
In a small pot, combine 2/3 cup water and the sugar. Heat over medium heat, stirring constantly, until the sugar completely dissolves into the water. Remove from heat.
Juice the lemons and add the juice to a small pitcher. Add the remaining water and the sugar water mixture. Stir well to combine.
Chill until ready to serve. This is delicious served over ice.
Notes
For a slightly tarter version of this that's less sweet, reduce the sugar to 1/2 cup and heat with 1/2 cup water.