With a sweet-tart lemon glaze and a crumb dotted with juicy blueberries, this Bundt cake makes a lovely breakfast. Be sure to let the cake fully cool before glazing.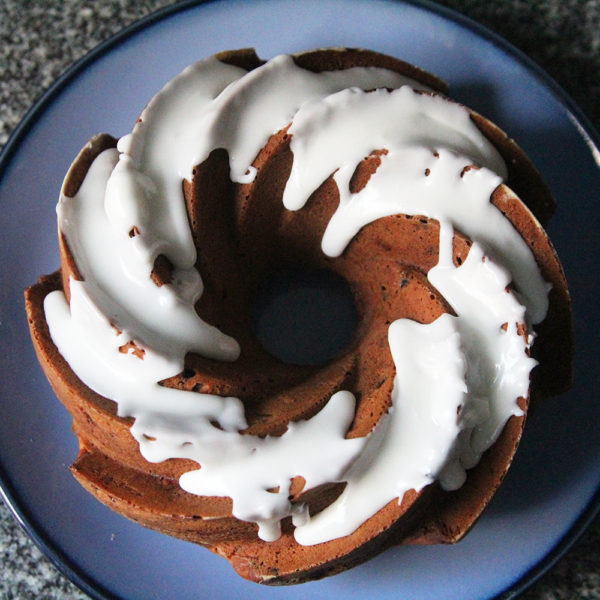 The sale made me do it. When I spotted the swirls of this Heritage style Bundt pan with the sale price in red, I couldn't resist. I've had my eye on this pan for so long.
But then, what to make in it?
I love Bundt cakes. Big ones like my Chocolate Buttermilk Bundt Cake and little ones too. Sometimes I even fill the centers of little ones in with chocolate ganache. For this one though, I had something different in mind. Something lemony. Something with a thick coating of white glaze.
The idea became this recipe. And it's one I will be making again and again. We love, in particular, the glaze. It's sweet-tart and totally lemony. Divine.
Take your time preparing the Bundt pan. Using a paper towel, spread butter throughout the inside, leaving a thin layer on all the crevices. Then, sprinkle in a tablespoon of flour. Tilt the pan and tap, moving the flour all over the pan.
The goal is to cover all the inside surface area with butter and flour in equal measure. This will ensure that your Bundt cake slides gracefully out of the pan, nary a knife needed to help it release. Again, take your time on this. Doing it well is so much better than doing it fast.
If you have any excess flour — that is flour that hasn't adhered to butter — tap it into the sink or garbage. Excess flour will leave spots on your cake.
Once the oven is preheating and the Bundt pan is all prepped, make the batter. Sift together the dry ingredients. Then whisk together the wet ingredients. And then fold the wet ingredients into the dry ingredients.
Pretty standard for cake making, right? End by folding in the blueberries.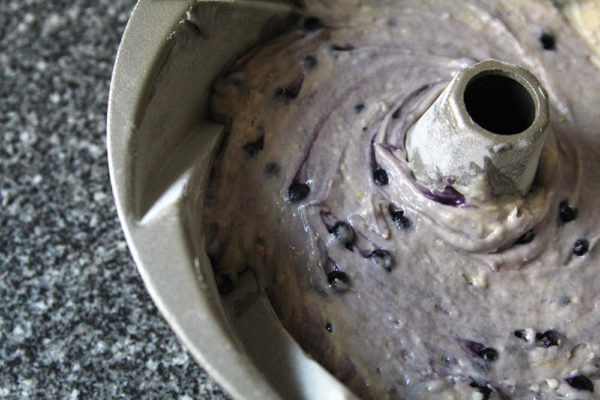 Spread the batter into the prepared pan and gently even it out. Now it's ready to bake.
Aren't those swirls lovely? I adore this Bundt cake pan. What a fantastic purchase.
Anyway, once the cake is all baked, let it cool for a bite before turning it out onto a place. It should slide right now.
Then let it set. It needs to cool completely before you glaze it. Like absolutely completely. Like not even a hint of warm completely. Seriously, the glaze will slide right off if you don't heed this direction.
When it is cool (absolutely, completely cooled!), then take that lovely cake and set it on your counter. Stir together the super simple glaze ingredients. And then drizzle that glaze all over. Try to keep it as even as possible.
Let the glaze harden before slicing it. I made this a day in advance and that worked out well.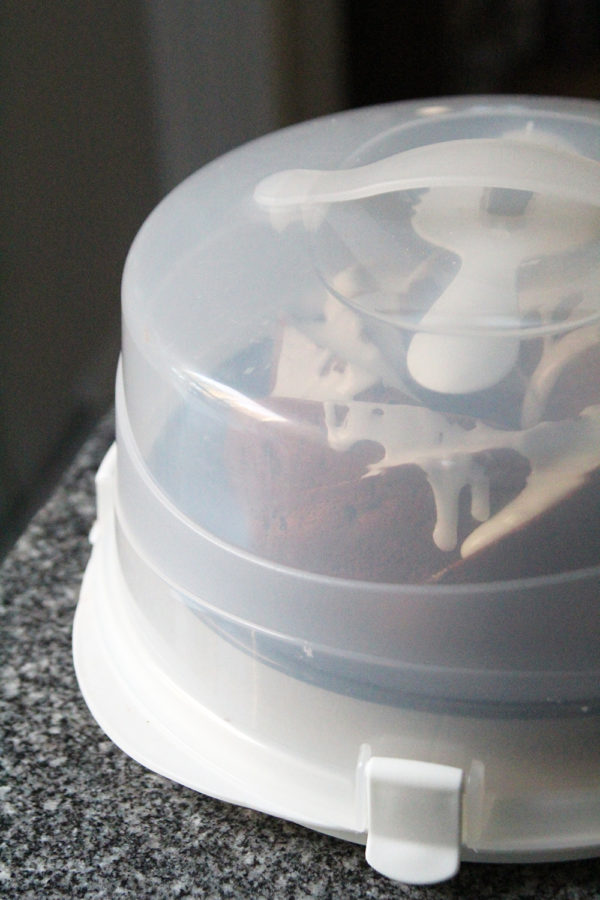 The cake should be store in an airtight container. I highly recommend a good cake container (seriously — spend the money. The ones from the dollar store are far from airtight which means that caked goods go stale or worse quickly).
How about a slice?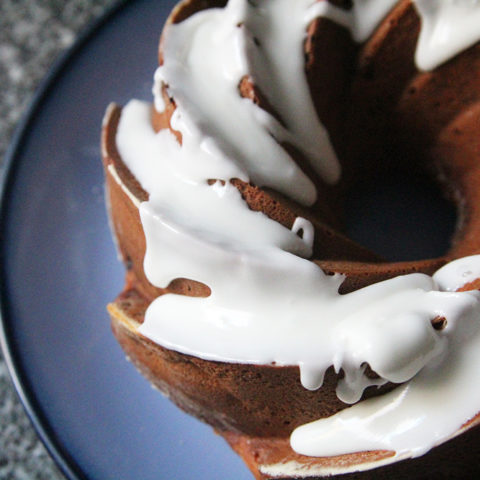 Lemon Blueberry Bundt Cake with Lemon Glaze
Total Time:
1 hour
15 minutes
With a sweet-tart lemon glaze and a crumb dotted with juicy blueberries, this Bundt cake makes a lovely breakfast. Be sure to let the cake fully cool before glazing.
Ingredients
Cake
2 cups all-purpose flour, , plus 1 tbsp, divided
1 tbsp baking powder
1/2 tsp salt
2 large eggs
1 cup milk
1/2 cup granulated sugar
1/4 cup unsalted butter, (melted and cooled)
1 tsp vanilla extract
zest of 1 lemon
1 cup frozen blueberries
Glaze
1 cup powdered sugar
1-2 tbsp fresh lemon juice
Instructions
Preheat oven to 350 degrees. Grease a Bundt pan with butter and 1 tablespoon flour.

Sift together the 2 cups flour, baking powder and salt in a large bowl. Set aside.

In a second large bowl, whisk together the eggs, milk, sugar, butter, vanilla and lemon zest. Make a well in the dry ingredients and pour in the wet ingredients. Fold together, stirring to combine. You'll want to continue stirring for 1-2 minutes, until smooth.
Stir in the blueberries.
Pour the batter in the prepared Bundt pan. Spread into an even layer. Bake for 45-55 minutes, or until a cake tester inserted into the center of the cake comes out cleanly.
Cool completely.
Once the cake is completely cool, stir together the powdered sugar with 1 tablespoon of lemon juice. Add additional lemon juice, as desired, to achieve desired consistency. It should be thick, but pourable. Pour over the cake, allowing it to drop down.
Enjoy. Store leftovers in an airtight cake container.