This quick and easy recipe for Bruschetta Chicken Skillet uses pantry ingredients to credit a bright, bold chicken dish perfect for dinner.
Looking for an easy, boldly flavored chicken dinner for busy nights? I've got a recipe for you — and it's one I absolutely adore (so do my kids).
This Bruschetta Chicken Skillet recipe is super easy — even the most novice of cooks can make it.
Start with thin-cut chicken breasts. This boneless, skinless chicken breast cut is widely available at grocery stores next to the other chicken cuts.
However, if you cannot find thin-cut chicken breasts, it's easy to make your own. Simply place boneless, skinless chicken breasts between sheets of wax paper and use a meat mallet (it's a hammer for meat) to pound the chicken until it's uniformly about 1/4-inch thick. From there, you'll want to cut the chicken into portions.
A note on store-bought thin-cut chicken breasts. When I first started cooking with them, they often came with five or six pieces in a 1lb. package. They were smaller then. These days, the pieces seem to be larger and as a result come three to a 1 lb. package. To compensate, I've started cutting those pieces up into 4 pieces each. That way, it's easy to get four equal portions from the recipe.
You may wish to do that too. Or you may wish to use more than 1lb. of chicken to accommodate the number of portions you need. Your choice.
The chicken breasts are seasoned simply with salt and pepper and then sauteed until they are just about cooked through.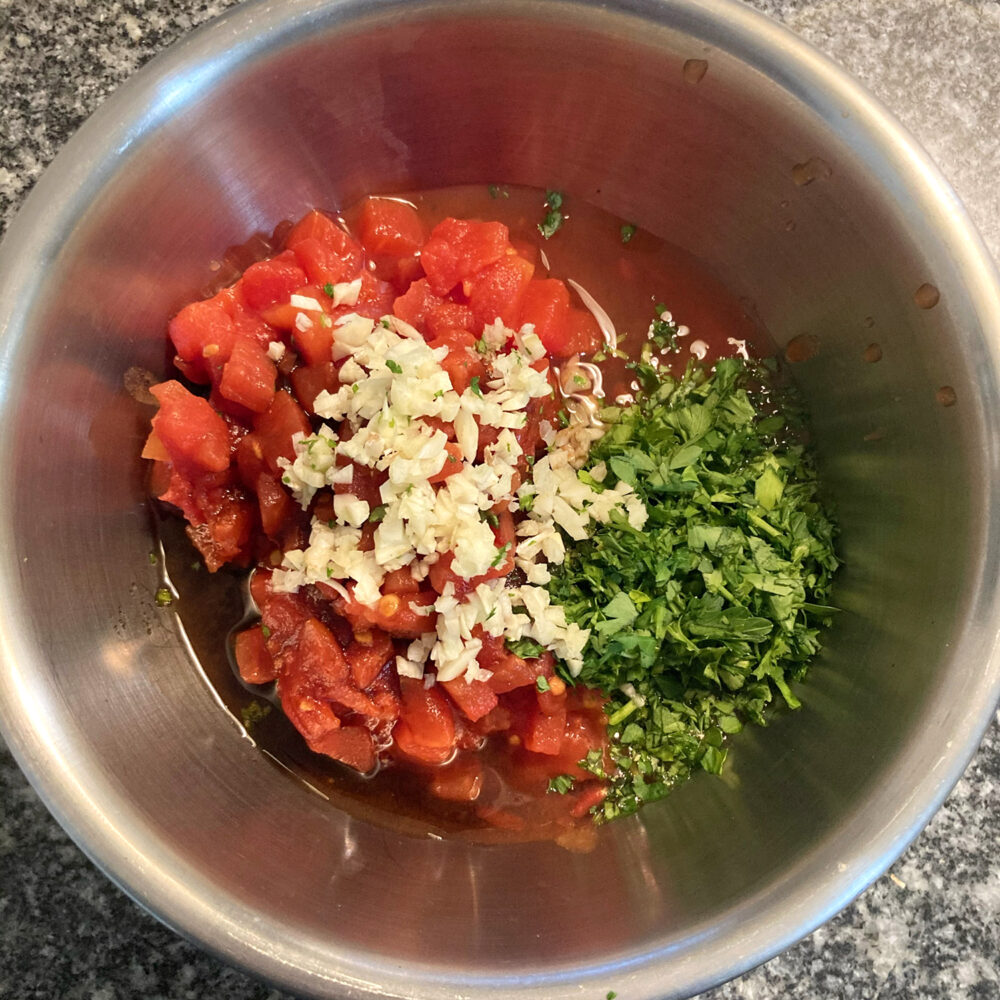 That's when the magic happens. You stir together the sauce — canned diced tomatoes, fresh parsley, garlic and balsamic vinegar with a touch of salt — and pour it over the chicken. Cover the skillet and let it cook for a few more minutes.
Then it's ready to serve.
I like serving this alongside buttered noodles and with a salad. But this would also work with roasted fingerling potatoes, Brussels sprouts salad, or so many other side dish options. One note of caution though: don't pair this Bruschetta Chicken Skillet with a boldly flavored side dish as it will take away from the boldness of this dish. Instead, go for more subtle flavors.
What's for dinner? This Bruschetta Chicken Skillet recipe is a great option.
Bruschetta Chicken
This quick and easy recipe for Bruschetta Chicken Skillet uses pantry ingredients to credit a bright, bold chicken dish perfect for dinner.
Ingredients
1 tbsp extra virgin olive oil
1 lb thin-sliced chicken breasts
kosher salt and pepper
1 14.5 oz can diced tomatoes (petite diced recommended)
1/4 cup chopped fresh parsley
2 cloves garlic, finely minced
1 tbsp balsamic vinegar
Instructions
Heat the olive oil in a large skillet set over medium heat.
Season the chicken liberally with salt and pepper on both sides. Chicken can be cooked as is or cut down into smaller pieces for easier serving. For packages with three thin-cut breasts, I cut each breast into four pieces.
Add the chicken to the pan in one single layer. Cook for 4-5 minutes per side, flipping once, until lightly browned and cooked through. (If cooking in smaller pieces, this should take 3-4 minutes.)
While the chicken is cooking, combine the diced tomatoes (with juices from the can), parsley, garlic, balsamic vinegar and a little salt in a small bowl. Stir well to combine
Once the chicken is just about done, pour the tomato mixture over the chicken, covering each breast or breast piece. Cover the pan with a lid and cook for 4-5 minutes.
Serve immediately.