All it takes is a single sheet pan and a few minutes to get this One Pan Shrimp Bake with Sausage, Potatoes and Corn cooking. And you'll be glad you did!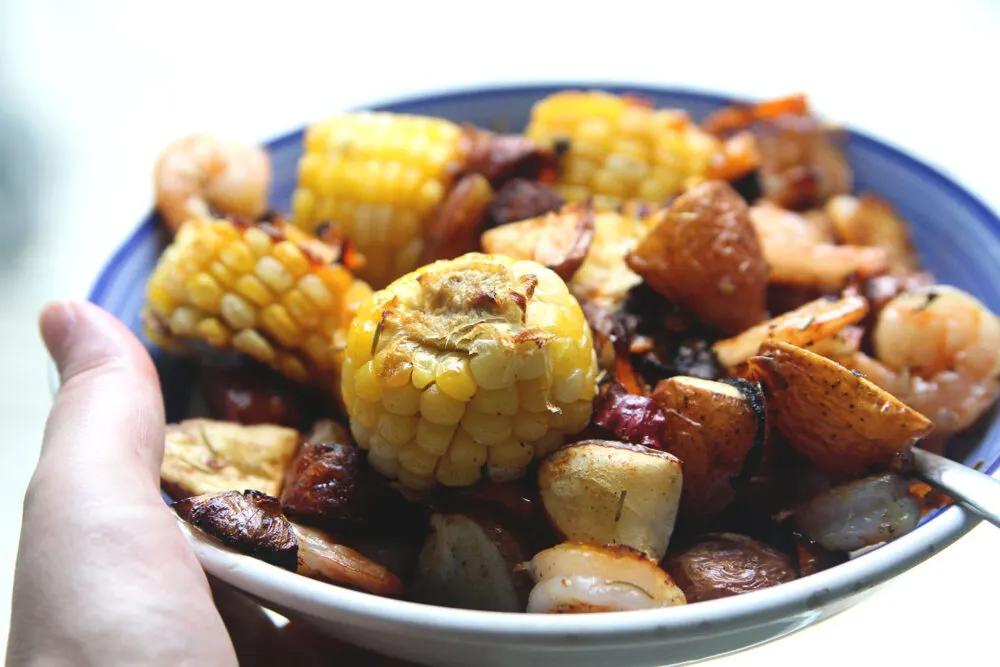 Farmers market. Grocery store. Club warehouse. Repeat. Those are the places where we do our food shopping. But my kids and I have been so busy since school started that I am shopping less and cooking from the pantry more. The ingredients for this dish are all things we often keep on hand.
If you're wondering where this recipe came from, that's it. The first time I made it, it was as a dinner for one on a night when I was eating alone. I knew I wanted roasted potatoes. And I didn't want to spend a lot of time fussing over dinner. A one-pan dinner was just the ticket.
I know what you're thinking: This looks a lot like a shrimp boil. And you're right, it does. That's totally what inspired this recipe.
The main ingredients are similar. I've taken some liberties with this dish, creating something entirely different.
There's no Old Bay seasoning. The dish is flavored with salt, pepper, paprika and rosemary, which wrap the ingredients in a wonderful earthiness. If you happen to have Highland Foods Maple Pepper in your pantry, use that in place of regular pepper. It adds such a lovely dimension to the recipe.
And this isn't trying to be a shrimp boil. It's a celebration of the fresh, seasonal flavors and textures. You roast it all together in the oven where the onions and peppers get extra sweet, the potatoes get a lovely crust and the sausage mingles it's flavor with everything. You get the idea.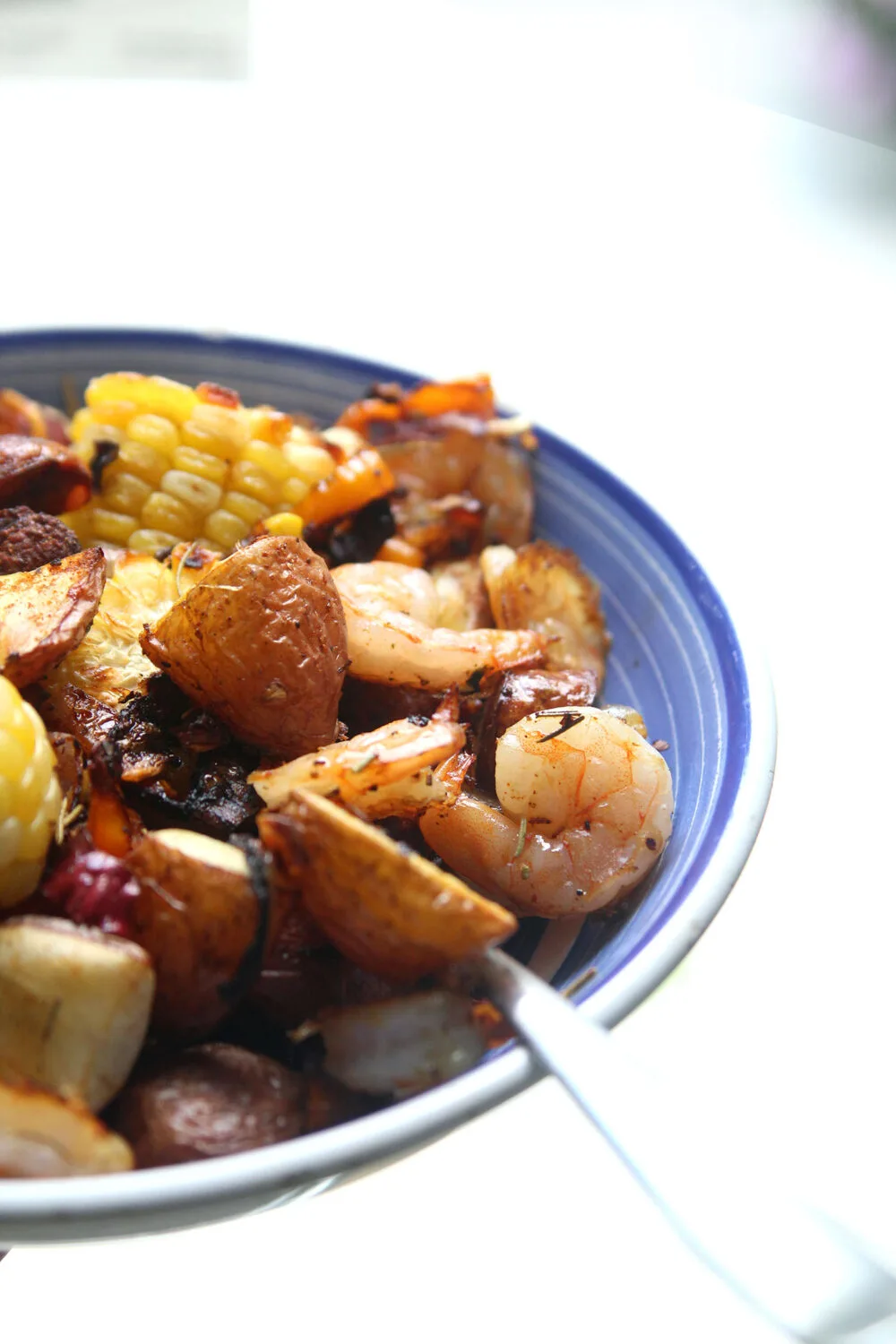 Put away your shrimp boil expectations. And try this delightful, lovely One-Pan Shrimp Bake with flavors of paprika and rosemary. It's fabulous.
One Pan Shrimp Bake with Sausage, Potatoes and Corn
All it takes is a single sheet pan and a few minutes to get this One Pan Shrimp Bake with Sausage, Potatoes and Corn cooking.
Ingredients
1 lb baby potatoes, quartered (if the potatoes are extra small, only half them)
red onions, quartered and sliced
4 links frozen precooked andouille sausage, sliced into 1/2-inch pieces
4 ears corn, peeled and cut into 1-inch pieces
2 tablespoons olive oil
1 teaspoon salt
2 teaspoon dried rosemary
1 teaspoon paprika
1/4-1/2 teaspoon pepper (sub for Highland Foods Maple Pepper, if you have it)
1 lb uncooked medium shrimp, peeled and tails removed.
Instructions
Heat convection oven to 400 degrees Fahrenheit or conventional oven to 425 degrees Fahrenheit. Line a large baking sheet with aluminum foil and brush with oil.
Arrange the potatoes, peppers, onions, frozen sausage and corn pieces around the baking sheet. Drizzle with olive oil and sprinkle with salt, rosemary, paprika and pepper. Mix together and spread out again.
Slide the baking sheet into the oven. Bake for 30 minutes, stirring once. Then add the shrimp to the tray, mix well and bake for an additional 10 minutes.
Season with a pinch more salt, as desired. Serve immediately.
Notes
Wait. The sausage is frozen? Yes! Cooking the sausage from frozen means that it will thaw as the other ingredients cook, ensuring that it doesn't overcook in the process.