Tender, baked mushrooms are stuffed with a buttery lobster filling in this delicious appetizer recipe.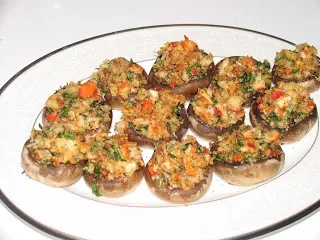 But whereas the lobster of my childhood was always served in the shell with clarified butter on the side, I love using lobster in innovative ways — because it's so good in so many dishes from Lobster Risotto to Lobster Salad.
It's also heavenly in this recipe for Lobster Stuffed Mushrooms.
These stuffed mushrooms take less than 20 minutes to whip up — but your dinner guests will never need to know that. Seriously, if you are looking for an easy, but impressive, lobster recipe, this is what you want to make.
Now, a hint: to make this truly easy, look for precooked lobster from your local fishmonger. My favorite grocery store always sells little tubs of lobster that's already been plucked from the shell. Our local seafood shop sells freshly cooked lobster meat by the pound. You can also purchase already cooked lobsters as well.
Cooked lobster meat makes these a breeze to whip up.
And besides … who can say no to amazingly buttery Lobster Stuffed Mushrooms?
One more thing: if you happen to have any extra filling, it's absolutely delicious combined with a little extra butter and tossed with pasta.
More Lobster Recipes
Lobster Stuffed Mushrooms Recipe
Ingredients
12 large mushrooms, or stuffing mushrooms
3 cloves garlic, minced
1 shallot, minced
1/4 cup butter
1/4 cup seasoned breadcrumbs
2 tbsp fresh parsley, chopped
2 tbsp fresh oregano, chopped
1 cup lobster meat, cooked and chopped
1/4 cup Romano cheese
salt and pepper to taste
Instructions
Coat a baking dish with cooking spray. Preheat oven to 375 degrees.
Wash the mushrooms and remove the stems. Place into the prepared baking dish.
In a small saucepan, melt 1/4 cup butter. Stir in garlic and shallots and cook for 2-3 minutes, until softened.
Remove from heat and combine butter mixture with breadcrumbs, herbs, lobster, and Romano cheese.
Spoon mixture into the mushroom caps. Place in oven for 8-10 minutes.
Notes
If you have extra filling, combine it with a pat of butter, a cup of cooked pasta and a little cheese for a yummy lunch or dinner. Toss in any extra lobster too.