Filled with a salty, herb filling, these Feta and Herb Stuffed Mini Sweet Peppers are a great make-ahead appetizer for parties and gatherings.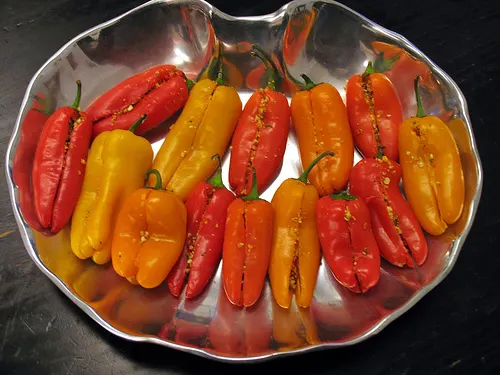 My poor family.
They are always my guinea pigs when I experiment with recipes. Some, like this one, turn out great and end up on the blog. Others, like a tragic butternut squash casserole I made for Thanksgiving nearly four years ago plague me. They won't let me forget the poorly conceived, over sweet dish that made my brother swear off butternut squash forever.
But fortunately, that was one of my first experiments, not one of my latest. (And besides, nothing tops my mother's homemade pumpkin pie with the sinews . . . ew. It looked like pecan pie. And of course, the friend I had sleeping over that night had never had pumpkin pie before . . . hell, she probably hasn't since.)
Anyway, the butternut squash incident came up (for the umpteenth time) the other night at dinner while everyone was trying this new recipe for stuffed mini sweet peppers. Why can't they just let it go???
Fortunately, there are more recipe triumphs than recipe fails these days. These Feta and Herb Stuffed Mini Sweet Peppers, for example, are a delight perfect for parties. They come together quickly and are a low-carb option.
Salty feta cheese is combined with vibrant herbs — basil and rosemary — and sweet sundried tomatoes. Then the peppers are stuffed with the mixture and baked just until the peppers begin to soften. Then chill until you are ready to serve.
An easy make-ahead finger food, these are best served cold. The cool, sweetness of the peppers contrasts nicely with the herby, salty filling with a hint of sweetness.
More Delicious Appetizer Recipes:
Stuffed Mini Sweet Peppers
Ingredients
30 mini sweet peppers
7 oz feta cheese
1/4 cup packed fresh basil
1/4 cup packed fresh rosemary
1/4 cup sundried tomatoes, (dried ones, not the ones packed in oil)
Instructions
Preheat the oven to 350 degrees and line a baking sheet with aluminium foil.
Slice the peppers from stem to tip on one side, leaving the stem intact. Carefully remove the seeds (there aren't too many).
In the bowl of a food processor, combine the feta, basil, rosemary and sundried tomatoes. Pulse until evenly chopped (the mixture should be very fine).
Use a small spoon to divide the feta mixture among the peppers. Place completed peppers on the prepared baking sheet.
Bake for 8-10 minutes, until peppers are just starting to soften. Transfer to a serving dish and serve hot or cold.