This quick and easy recipe for Pan-Grilled Zesty Turkey Scallopini is packed with flavor. Perfect with a salad, pasta or potatoes.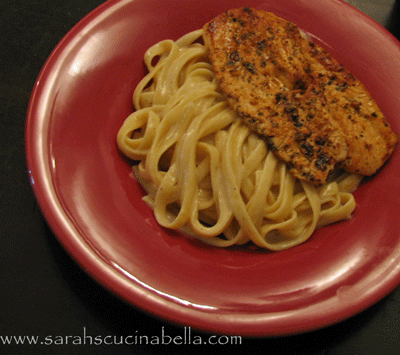 I did exactly what you are not supposed to do when planning to lose weight: I set a date to begin the dieting phase. I know, it's silly and stupid to put it off. And in most cases, it is a set up for failure. After all, isn't the whole point to renovate your eating habits so that it's a life change, not just a temporary fix?
In my defense, I knew that I had a ton of baking to do for the holidays. And I also knew it would be even harder than usual to focus on eating better when I would be surrounded by unhealthy foods.
So, I figured I would just kick off the New Year with a bang. Beginning on January 1, I will track what I eat on SparkPeople and cutting out all the bad stuff – fried foods (even if they were homemade), fast food, excessive amounts of sweets, etc.
I've already started a little bit of exercise (just a very small ab workout so far) and will increase that to include a little cardio too.
In the meantime though, I have been working on some new recipes with a healthier slant. This one, which is zesty but not spicy (don't be fooled by the hot sauce — it's just a bit for tang), was fantastic with the Fettuccine Alfredo pictured but let's face it — that's not the healthiest side dish.
For a healthier slant, I would serve it on a salad bed or with a bit of rice and a vegetable like corn.
Pan-Grilled Zesty Turkey Scallopini
Additional Time:
30 minutes
Ingredients
3 cloves garlic, finely minced
1 1/2 tsp Italian seasoning
2 tbsp olive oil
2 tbsp lemon juice
1/2 tsp salt
1/4 tsp paprika
1/2 tsp hot sauce
freshly ground black pepper
1 lb thin boneless skinless turkey breast pieces, sometimes called turkey scallopini
Instructions
Whisk together the garlic, Italian seasonings, olive oil, lemon juice, salt, paprika, hot sauce and pepper.
Pour over turkey breast pieces and let sit for 30 minutes.
Preheat a grill pan over medium. Spray with cooking oil.
Cook the turkey for 2-3 minutes per side, spooning extra marinade over when you flip each piece.
Sarah Walker Caron is a cookbook author, freelance writer and founder of Sarah's Cucina Bella. She is the author of four cookbooks including The Super Easy 5-Ingredient Cookbook and One-Pot Pasta, both from Rockridge Press. A single mother to a tween and a teen, Sarah loves nightly family dinners, juicy tomatoes plucked fresh from the vine and lazy days on the beach. She also adores reading and traveling.