Rich and flavorful, these Garlic Ginger Portobello Mushrooms are so versatile. Toss them with noodles. Serve them as appetizers. Tuck them into wraps.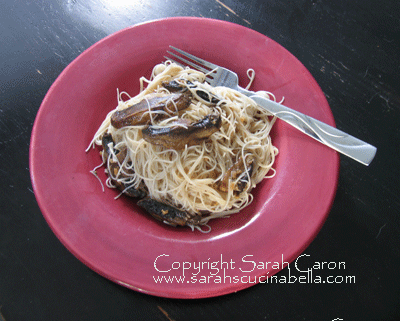 Sometimes I will just write down a list of ingredients and guess how much of each one is necessary to make a mouthwatering dish. Sometimes I am right. Sometimes I am way off-base. It was definitely the former when I dreamed up this dish. I was hooked at first bite (and made sure to have another person try it too . . . just to be sure it was that good. It was).
When I first made these Garlic Ginger Portobello Mushrooms, I was worried it would be too much tang, without a balancing flavor. Boy, was I wrong on that — it was the perfect mix of sweet and savory. It's definitely going to be making a repeat appearance in my kitchen soon . . .
The inspiration for mincing the fresh ginger came from watching Guy's Big Bite on the Food Network. On an episode that I saw recently — in the wee hours of the morning — he talked about how often ginger is grated in recipes, but he was mincing it so that his recipe would have a bit of the texture as well as the taste. I decided to try it too. Can you say yum? What an awesome idea.
Garlic Ginger Portobello Mushrooms are excellent tossed with noodles, like you see here. But you can also enjoy them in many other ways such as in sandwiches, wraps and pita pockets.
A few notes and tips:
If you make this, prep all the ingredients before even heating the oil. That will speed up the cooking process.
These are tasty hot or cold and they last for quite a few days in the fridge.
This recipe can be easily doubled or tripled.
Presliced portobello mushrooms often come in six-ounce packages … just FYI.
Garlic Ginger Portobello Mushrooms
Ingredients
2 tbsp olive oil
2 cloves garlic, finely minced
1 inch piece of ginger, minced
2 tbsp rice wine vinegar
2 tbsp soy sauce
1 tbsp honey
6 oz portobello mushrooms, sliced (about 2)
Instructions
In a medium skillet, heat the olive oil over medium heat. Stir in the garlic and ginger. Cook, stirring frequently, for 2-3 minutes, until just before the garlic begins to brown. Quickly whisk in the vinegar, soy sauce and honey.
Add the portobello mushroom slices in a single layer. Cook, flipping occasionally, until soft and browned (from soaking in the sauce) - about 6-7 minutes.
Notes
To serve: These are a very versatile mushroom. They were fantastic with rice noodles, but would be equally good in a vegetarian sandwich, in a pita pocket with avocado and bean sprouts, over rice or on a salad. Use your imagination.
Nutrition Information:
Yield:

4
Serving Size:

1
Amount Per Serving:
Calories:

98
Total Fat:

7g
Saturated Fat:

1g
Trans Fat:

0g
Unsaturated Fat:

6g
Cholesterol:

0mg
Sodium:

445mg
Carbohydrates:

8g
Fiber:

1g
Sugar:

5g
Protein:

2g