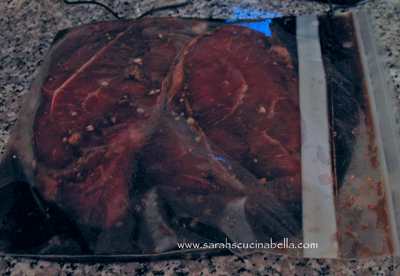 On New Year's Eve, we had a fun visit from an old and dear friend of mine and her family. Then we ate Chinese food (Shawn's tradition) and rang in the New Year watching The Next Food Network Star (I think I want to be the next star!). On New Years Day, Shawn had to work and I had big plans to just relax with the kids — until I realized that no one in the family had planned our traditional dinner.
For my entire life, we've had a nice dinner on New Years Day. But for some reason, no one took responsibility for it this year.
Bizarre.
So I sprung into action at 11 a.m. for the 4 p.m. dinner. First, came the menu — clam stuffed mushrooms, a fruit platter, my amazing Ginger Soy London Broil, mashed potatoes, sauteed spinach, a lentil dish, green beans with brown butter, and hummus for dipping carrots.
That seemed like the perfect quick and easy menu for this meal (and I will tell you more about some of the sides at a later date) and it would have been if Paige wasn't in a HOLD ME NOW! kind of mood. Nonetheless, I was able to prep everything and have it all really for the quick cook when my family arrived. I did have to scrap the clam mushrooms though, but only because my fungus was growing mold. Eww. And I just bought them too!
The funny thing was that Virtual Frolic left me a comment in the past day or two about my time management skills and that was all I could think about as I cleaned the house and prepped the food.
Do I have great time management skills?
I don't think so, but I do seem to get everything done. Perhaps it's time to start taking stock of when I do things and how I fit everything in . . . her suggestion of writing about time management could just be my next big project. (Maybe it will help me too.)
Anyway, the dinner went off without a hitch.
Now, the secret to the quick marinade of this London Broil is to cut slits into the beef so that the marinade really permeates the meat. I like to cut the slits on both sides of the meat too. It also makes it super tender when you go to slice it later.
Ginger Soy London Broil
Ingredients
1/2 cup soy sauce
1/4 cup brown sugar
2 cloves garlic, , minced
1 tbsp honey
2 tbsp olive oil
1 tbsp grated fresh ginger
1-1 1/2 lb London broil
Instructions
In a sturdy, medium sized bowl, whisk together soy sauce, brown sugar, garlic, honey, olive oil and ginger until well combined.
Cut slits across the London broil - 4-5 of them - to let the marinade really soak in and then put the meat into a sealable bag and pour in soy mixture. Seal the bag and let sit for 1-2 hours, turning once halfway through.
Remove the London broil from the bag and discard marinade. Place on a broiler pan and into the oven. Set broiler to high and cook for 8-10 minutes, to desired doneness. Slice thinly, against the grain, and serve immediately