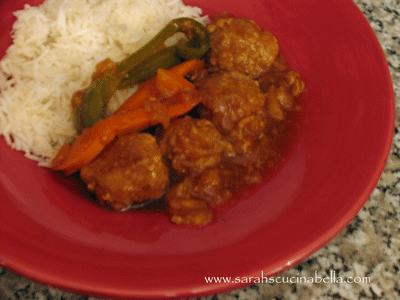 I've been cooking almost daily. I love cooking so that's a chore I totally don't mind doing. And there are several great benefits to cooking at home, instead of getting take out or going out. For one, a meal made at home is cheaper than one in a restaurant. That's always a good thing. For another, it's far easier to control what you eat and how many calories you take in when you are eating at home.
Speaking of calories, there are significantly fewer calories in ground turkey than in ground beef — about 100 fewer, in fact. So, while Shawn and I love a juicy beef burger, I try to substitute turkey for beef when possible. With recipes like my Italian Turkey Meatballs and these Hawaiian Turkey Meatballs, the extra juicy sauce makes up for the dryness factor of the turkey. What dryness factor? Simply put, ground turkey doesn't cook up as juicy as ground beef.
This recipe has a lot of ingredients — I know, who wants to use that many? But to achieve the right flavor here, you have to. And the result is worthwhile. Plus, this healthy recipe amounts to just under 400 calories for each portion. How much is a portion? Eight one-inch meatballs and one-quarter of the sauce. Serve it with 1/2 cup of rice and you have a healthy meal with a lean protein and about 2 servings of fruits and veggies for about 500 calories. Not bad at all.
Just try it!
Hawaiian Turkey Meatballs
Ingredients
Meatballs:
1 lb ground turkey
1/2 small onion, finely minced or processed
2 cloves garlic, minced
1 tsp grated ginger
1 large egg, beaten
1/4 cup panko bread crumbs
1/2 tsp salt
1/4 tsp pepper
1/4 tsp packed brown sugar
Sauce:
2 cups pineapple tidbits with juice, separated
1 cup water
1/4 cup packed brown sugar
1/4 cup rice wine vinegar
2 tbsp low-sodium soy sauce
2 tbsp cornstarch
1/2 green pepper, sliced
1/2 red pepper, sliced
Instructions
Preheat oven to 350 degrees. Line a baking sheet with aluminum foil and spray with cooking spray.
Mix together the ground turkey, onion, garlic, ginger, egg, panko, salt, pepper, and brown sugar in a large bowl. Knead with your hands to combine well.
With your hands, grab meat and roll into 1 inch meatballs. Place on the baking sheet. Don't let them touch, but they can be close together.
Place the meatballs in the oven and cook for 20-25 minutes until cooked through. Set aside.
In a medium saucepan over medium heat, whisk together the pineapple juice, water, brown sugar, vinegar and soy sauce until sugar is fully dissolved. Whisk in the cornstarch and raise the heat to medium high. Bring to a boil, stirring continuously.
Stir in the pineapple bits and the peppers. Reduce heat to medium-low and cover. Cook for 15 minutes. Add meatballs and recover. Cook for an additional 5 minutes.
Serve with rice.