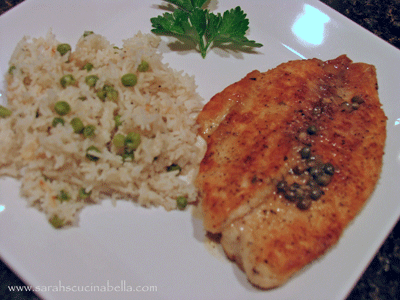 Last Monday, I had a total kitchen disaster trying to make a blood orange tilapia. Meanwhile, Cate at Sweetnicks hit the culinary jackpot with her Sauteed Tilapia with Lemon-Peppercorn Sauce. Not only did she rave on her blog about it, but she raved to me about it.
So, that tilapia recipe ended up at the top of my "must try" list.
On Friday, I ended up making it. I just had to try it and it's a darn good thing I did.
This recipe is beyond amazing and the sauce is just delectable. Best of all, it's low in calories and fat so when you are clamoring for seconds, you won't totally kill your diet. Good news all around.
This is so totally going to be a frequent repeat in my house.
Looking for more delicious tilapia recipes? Try these:
Baked Tilapia with Warm Tomato Relish
Sautéed Tilapia with Lemon-Caper Pan Sauce
Ingredients
3/4 cup chicken stock, look for a low-calorie one like Emeril's
1/4 cup lemon juice
1 1/2 teaspoons drained capers, the original recipe used green peppercorns
1 teaspoon butter
6 tilapia fillets, about 1 1/2 lbs total
1/4 teaspoon salt
1/4 teaspoon freshly ground black pepper
1/2 cup all-purpose flour
olive oil
2 teaspoons butter
Lemon wedges, optional
Instructions
Whisk together chicken stock, lemon juice and capers. Lightly crush the capers.
Season the tilapia fillets with salt and pepper. Then dredge them in flour, shaking off any excess. Set aside.
In a large skillet, melt one teaspoon of butter over medium heat. Turn up the heat to medium-high and brown the butter (it should be a golden brown color). Add the fillets to the pan. Sauté for about 3 minutes on each side (they are done when the fish flakes easily with a fork). Add olive oil to the pan as needed if the pan becomes too dry. Transfer fillets to plates.
Pour the broth mixture into pan, being careful of splatter — it will instantly boil, steam and hiss. Scrape the bottom of the pan to loosen any browned bits. Continue heating and stirring until the mixture is reduced to about 1/2 cup. Remove the pan from the burner and whisk in two teaspoons of butter. Spoon two tablespoons of mixture, give or take, over each fillet.
Serve with rice (or as I did, a nice rice/pea mixture with a bit of lemon juice and pepper).
Notes
Based on a recipe from Pam Anderson, Cooking Light, MARCH 2004 via Sweetnicks
Nutrition Information:
Yield:

6
Serving Size:

1
Amount Per Serving:
Calories:

673
Total Fat:

12g
Saturated Fat:

4g
Trans Fat:

0g
Unsaturated Fat:

7g
Cholesterol:

103mg
Sodium:

794mg
Carbohydrates:

96g
Fiber:

11g
Sugar:

20g
Protein:

56g