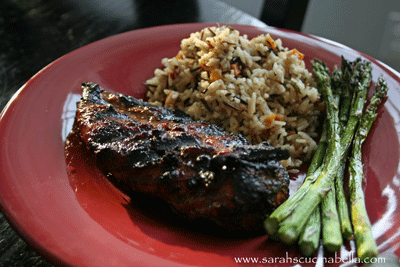 It's grilling season! It's grilling season!
That's exactly what I felt like shouting the first night of the season when cooking dinner outside. We've repeated our outdoor cooking almost every night since. I love grilling outside. The scent of cooking food wafting through the air, the sounds of crackling inside the grill, the wave of heat that smacks you in the face when you open the lid . . . what's not to love?
This is a new recipe for me. I have some OMG balsamic vinegar from a small chain of pasta stores called Villarina, and I wanted to try it in a marinade for chicken. The result was a slightly tangy, slightly sweet chicken breast with a rich color. Try it. It makes good leftovers too for salads or wraps.
Grilled Balsamic Chicken
Ingredients
Marinade
1/2 cup balsamic vinegar
1/4 cup olive oil
2 tbsp fresh rosemary
1 tsp dried thyme
10 cloves roasted garlic
1/2 tsp freshly ground black pepper
Instructions
Wash the chicken and pat dry. Cut diagonal slits across the chicken breast (about 1/4 inch thick). This allows the marinade to penetrate the meat. Place into a resealable plastic bag.
Combine all marinade ingredients in the bowl of a food processor and pulse until smooth.
Pour the marinade into the plastic bag with the chicken and seal, removing as much air as possible. Let sit for 20 minutes.
Preheat the grill to the medium setting.
Spray the grill grates with cooking spray (while standing back!). Put the chicken on the grill.
Cook for roughly 15-20 minutes, flipping once. Chicken is done when juices run clear.
Sarah Walker Caron is a cookbook author, freelance writer and founder of Sarah's Cucina Bella. She is the author of four cookbooks including The Super Easy 5-Ingredient Cookbook and One-Pot Pasta, both from Rockridge Press. A single mother to a tween and a teen, Sarah loves nightly family dinners, juicy tomatoes plucked fresh from the vine and lazy days on the beach. She also adores reading and traveling.