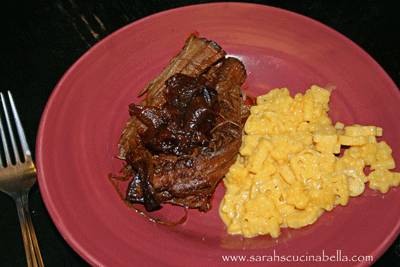 All of my cooking, photographing, and posting about our food has really caught on . . . with Will. The boy doesn't miss a thing, I tell you.
I whipped out the camera to quickly catch a shot of the beef brisket before sitting down to eat. His little eyes lit up when he saw the camera.
"My plate next, Mommy! My plate!" Will chirped.
Of course, I indulged his interest and snapped a few photos of his cut-up food.
"Now Daddy's, Mommy. Daddy's plate!" He chirped.
I quickly snapped a photo.
"Now, yours mommy. Yours."
I think I've created a monster . . .
As for the brisket, it was a fly by the seat of my pants recipe that worked so well. We'll definitely be adding this one to the repertoire. Prep time was about 15 minutes and it was ready to serve when I got home. As you can see in the picture, I conceded and served it with SpongeBob Square Pants mac n cheese . . . hey, the boy deserves a treat now and again.
Easy Slow Cooker Beef Brisket
Ingredients
1 tbsp olive oil
1 large vidalia onion, sliced
4 cloves garlic, minced
2 lb beef brisket
1/2 cup water
Sea salt and freshly ground pepper
1/3 cup brown sugar
1/3 cup tarragon vinegar
1/2 cup chili sauce, I used Heinz
1 tbsp honey
Instructions
Heat the olive oil in a large pan. Stir in onion and garlic and cook for 4-5 minutes, until garlic is translucent, but not browned. Scrape into the slow cooker.
Add the brisket to the pan and cook for 30 seconds to 1 minute on each side -- until just browned. Transfer to the slow cooker.
Add the water to the hot pan and stir vigorously to deglaze. Pour over the meat.
In a small bowl, whisk together the brown sugar, tarragon vinegar, chili sauce, and honey. Pour over the meat.
Set the slow cooker to low and cook for 8 hours. Use two forks to pull the meat apart.
Sarah Walker Caron is a cookbook author, freelance writer and founder of Sarah's Cucina Bella. She is the author of several cookbooks including The Super Easy 5-Ingredient Cookbook and One-Pot Pasta, both from Rockridge Press. A single mother to two kids in middle school, Sarah loves nightly family dinners, juicy tomatoes plucked fresh from the vine and lazy days on the beach. She also adores reading and traveling.