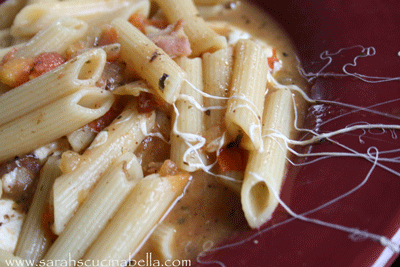 I've gotten very into Rachael Ray lately. Girlfriend knows what she's doing . . . My one complaint? Many of the 30 minute meals I have made are 30 minutes of active time . . . that's quite challenging when you are home alone with two little kids. Often, making her recipes involves Paige at the hip and Will standing close-by to see what I am up to . . .
Being two and a half, I try to let Will help when he wants to. But that can be a challenge. Sometimes he "forgets" that when I ask him to make the salads, the fixings are supposed to go in the bowl — not his mouth. Other times he wants to taste ingredients (to which I usually acquiesce, as long as it's safe).
I've also found that many of Rachael's recipes are kid-friendly.
Will has liked pretty much everything I have made from her — mac and cheese with broccoli (from the magazine), French dip paninis and the pasta you saw above: Tomato, Bacon, Cheese Pasta . . . This one comes from her 30-Minute Meals book. I made it for the first time a few weeks back in desperation when our fridge was devoid of fresh ingredients save some chicken stock, bacon and tomato . . .
I do make some changes to the recipe though: I skip the pasta water and just double the amount of chicken broth. I substitute two small diced tomatoes for the grape tomatoes. And the onions? I've made it with and without them and prefer without . . . That's the nice thing about her recipes — they are easy to customize.
Tomato, Bacon, Cheese Pasta
Adapted from the Rachael Ray recipe
Ingredients
3/4 pound penne
1 tablespoon extra virgin olive oil
4 bacon slices, chopped
4 large garlic cloves, minced
1/4 teaspoon red pepper flakes
Black pepper
sea salt
1/2 cup white wine
1 cup chicken stock
2 small tomatoes, diced
1/2 ball fresh mozzarella, cut into 1/4 inch dice
1/2 tsp dried Italian seasonings
1/2 cup grated Parmesan cheese
Instructions
Bring a large pot of water to boil and add the pasta. Cook as directed on the package.
Preheat the olive oil over medium heat in a large skillet. Add the chopped bacon and cook until just starting to brown -- about 3-4 minutes. Stir in the garlic, red pepper, pepper and salt. Cook, stirring all the time, for 4 minutes. Don't let the garlic brown.
Add the white wine and stir briskly to get up all the yummy scrapings on the bottom. Stir in the chicken stock and bring to a boil. Simmer for 2 minutes.
Add the tomatoes and cook them for an additional minute. Add pasta and stir to coat in the sauce. Let sit for one minute.
Remove from heat and stir in cheeses and Italian herbs.
Serve with warm crusty bread.
Nutrition Information:
Yield:

4
Serving Size:

1
Amount Per Serving:
Calories:

340
Total Fat:

13g
Saturated Fat:

5g
Trans Fat:

0g
Unsaturated Fat:

8g
Cholesterol:

26mg
Sodium:

819mg
Carbohydrates:

34g
Fiber:

2g
Sugar:

3g
Protein:

15g