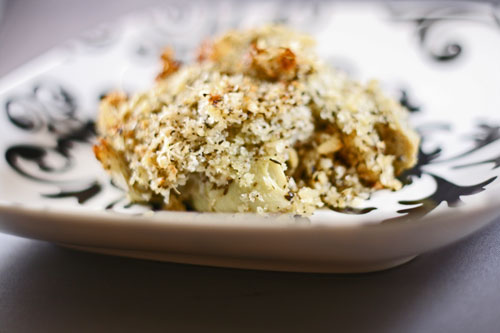 I was leafing through the November issue of Martha Stewart Living the other morning when I saw a recipe for baked artichoke hearts. It sounded interesting, and as luck would have it, I'd just purchased some frozen artichoke hearts and they were aching to be used.
At first, the plan was to serve this to the kids and I with dinner. But the recipe takes an eon to cook, so I ended up having this by myself after the kids went to bed. And I am kind of glad I did — It was absolutely delicious. The vinaigrette really makes this dish. I'd be tempted to make and use more than the recipe calls for — but it is very, very good as is.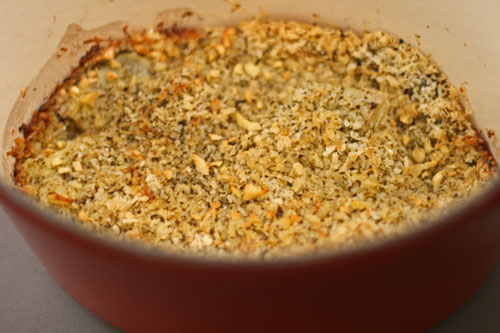 The original recipe made more servings than I could possibly need, so this has been reduced and tweaked a bit.
Roasted Artichoke Hearts
With a buttery, crunchy topping, these roasted artichoke hearts are full of flavor and nuance. This recipe was inspired by Rose's Artichoke Hearts, Martha Stewart Living, Nov. 08.
Ingredients
1/2 cup Panko breadcrumbs

1/4 cup mixed grated hard cheeses such as asiago, Romano and Parmesan

1 tbsp dried Italian herbs

salt and pepper

1 package artichoke hearts

1/4 cup extra virgin olive oil

2 tbsp lemon juice

1 large garlic clove, minced
Instructions
Preheat the oven to 325 degrees Fahrenheit and spray a cooking dish with cooking spray.
In a large bowl, combine the breadcrumbs, cheese, Italian seasonings, salt and pepper.
Place the artichoke hearts in the cooking dish in a single layer. Spread the panko mixture over the artichoke hearts.
Whisk together oil, lemon juice and garlic. Pour over the artichokes.
Now, this is the Martha Stewart method: place a piece of parchment over the dish and cover with aluminum foil. Place in the oven for 30 minutes.
Now, raise the temperature to 375 degrees Fahrenheit and remove the coverings from the dish. Cook for an additional 15 minutes or so, until the top is golden brown.