Roasting brings out the natural sweetness in vegetables like these Roasted Beets with Thyme — sweet and tender with an herbal aroma. Delightful.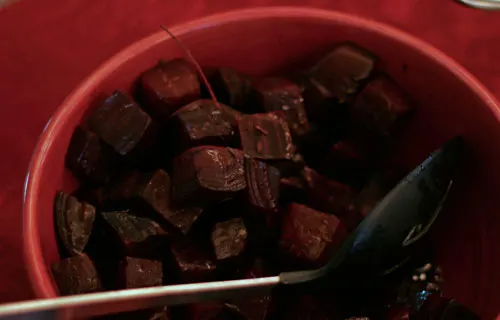 Last week, I discovered gigantic beets, the size of softballs, at a favorite market. I've never seen anything like them before. Better yet, they were only $0.69 per pound. So, of course I had to pick up several at that rock bottom price.
Now, I could have just boiled the beets — I love boiled beets with a hearty sprinkling of sea salt. But these special beets just begged for me to try something new, something different. And whatever it is, I wanted it to merit being featured on Thanksgiving.
I hunted around the internet and discovered that there are a few recipes for roasted beets out there. Roasted? Perfect.
Roasting brings out the natural sweetness in vegetables … and, heck, I have never met a roasted vegetable I didn't like.
The surprise bonus? I gave Paige a taste and her little eyes lit up. Soon, Will was clamoring for bites too. Before I knew it, we'd polished off a whole pound of these. Just. So. Good.
And they were a hit on Thanksgiving too.
Roasted Beets with Thyme
Ingredients
1 lb beets, , peeled and cut into 1 inch dice
1 tbsp olive oil
3-4 sprigs thyme
sea salt and pepper
Instructions
Preheat oven to 425 degrees. On a rimmed baking sheet, place a sheet of aluminum foil that stretches the length of the baking sheet. Pile the beets in the center. Tuck the sprigs of thyme in the stack in different sections. Drizzle with olive oil, salt and pepper.
Now, you need to make a sealed packet. Turn the baking sheet so that you are belly up to the long side. Grab each end of the aluminum foil and pull together. Roll the two sheets together, creating a long seal. Roll up each remaining side of the foil to form a sealed packet.
Place inside the preheated oven. Cook for 60 minutes. Let stand for 10 minutes or so. Be careful opening the packet, as there is a lot of hot steam trapped inside.
Devour.