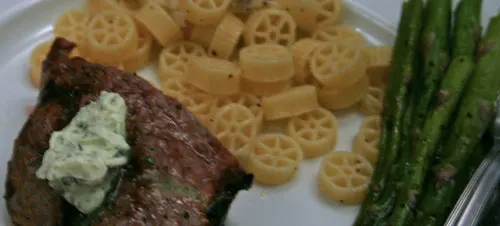 Don't look too closely at the blurry photo … I know, it's subpar. And I am so, so, so sorry.
But this was so good that I just couldn't wait to dig in and somehow all of my photos came out blurred. I swear, it won't happen again. So, just forgive me for now.
Besides, the goodness of whirled butter more than makes up for the badness of the photo. Just a little dob of this delish butter is all you need for a sizzling steak (which of course causes it to melt everywhere) to make the steak taste simply divine.
I suggest you try it. And again (cause this definitely makes enough for several meals).
Sage, Thyme and Garlic Butter
This butter is fantastic when served over steak. It could also be delightful on a baked potato or spread on a baguette and toasted. However you serve it, it's packed with bold flavors.
Ingredients
1 stick unsalted butter, , softened to room temperature
2 small cloves garlic, (or one really big one), crushed
1 tbsp chopped fresh sage
1 tbsp fresh thyme
a few pinches of salt and pepper
Instructions
Combine all ingredients in a food processor and process until smooth. Spoon into a bowl and serve.