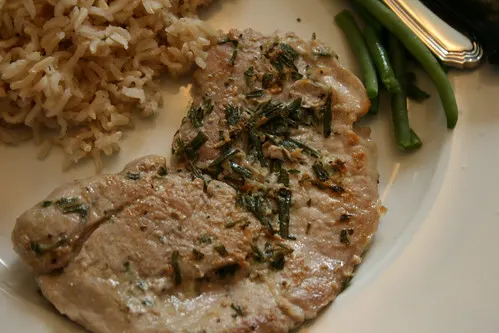 Knock, knock!
That's what Paige says when she's running into a room. It's her own special way of announcing her presence. It brings an ear-to-ear smile to my face just to think about it. She is so sweet, so smart and so loving … I couldn't ask for more. And this weekend, she impressed me as she actually acknowledged and played with my niece, who is just three months older. It was nice to see the girls and Will get along so well.
We are back from the wedding and back to life (after hitting the minor speed bump of a half-day of power outage today). That means, as promised, we are back to food. YAY!
One of my very, very, very favorite things is a well-seasoned pork tenderloin. Particularly one that has the rich flavors of garlic, rosemary and white wine soaked deep through the meat. This recipe adapts those delicious flavors to the faster-cooking pork chop. It's a rich, tender and tasty way to enjoy boneless chops.
Serve it up with some rice pilaf and a green veggie (like green beans) and you will have an easy and delicious meal.
Rosemary Garlic Pork Chops
Ingredients
1 lb pork chops, (boneless, thin-cut)
12 " portion of rosemary, , needles removed and minced (discard the woody stick)
2 cloves garlic, , crushed
1 1/2 tbsp extra virgin olive oil
1 tsp salt
1/4 tsp pepper
1/2 tbsp white wine
Instructions
Rinse the pork chops in cold water. Place in a single layer in a flat-bottomed container and set aside.
In a small food processor, combine the rosemary, garlic, olive oil, salt, pepper and white wine. Process until well combined.
Spread the marinade mixture over the pork chops and cover with plastic wrap. Let sit for at least an hour. Flip the pork chops, scraping the mixture off one side and rubbing into the second side of the chops. Get ready to cook, letting the pork site for 5-10 more minutes.
Cook to desired doneness on the grill or under a broiler.