Some days, I just don't know what to make for dinner. Don't you have days like that? You know, where it's all just too much and urge to order takeout becomes too hard to fend off. And sometimes, you bend under the pressure and just order something.
But, I have found that when I am feeling like that, the best defense is to at least try – take something out, even if you don't know what you're making with it. That was the case with this ground beef. I knew I was going to use it for dinner … I just didn't know what.
As dinnertime approached, I still didn't have a plan. I leafed through a few cookbooks and then turned to the internet. Actually, I turned to Twitter and instant messaging. And the funny thing? When I asked, almost everyone came back with the same answer: Sloppy Joes.
Well, when something like that slaps you in the face, you just have to go with it. So I did.
How do you combat the "I don't feel like cooking" feeling?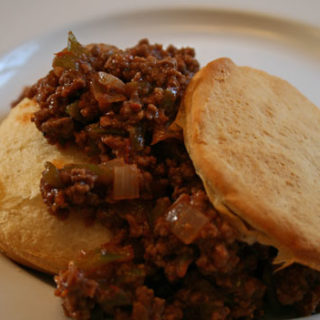 Classic Sloppy Joes
The classic combination of browned ground beef and a smoky, bright sauce make this recipe for Sloppy Joes irresistible.
Ingredients
1 tbsp extra virgin olive oil
1 small yellow onion, chopped
1 small green bell pepper, chopped
1 lb ground beef
1/2 cup tomato sauce
2 tbsp tomato paste
2 tbsp apple cider vinegar
2 tbsp light brown sugar
1 tbsp barbecue sauce, I like Sweet Baby Rays
Instructions
In a large skillet, heat the olive oil over medium heat. Add the onion and pepper and cook, stirring frequently, until they start to soften and the onion begins to get translucent (about 5 minutes). Add the ground beef and cook, stirring constantly while also breaking it into small pieces, until browned all the way through. You want the ground beef and veggies to get all mixed up and together.
Drain the fat off. Stir in the tomato sauce, tomato paste, apple cider vinegar, brown sugar and barbecue sauce. Stir until it's all mixed together. Lower heat to medium-low and cook for 5 minutes.
Notes
To serve: Dish this up over a biscuit or roll. It can also be served over rice.