Remember recently when I told you about the fabulous Eggplant Parmesan that I made using Maris' awesome (and healthier!) recipe. It was so good that I bought more eggplant at the farmers market. I also picked up some green tomatoes to try out an idea I have for a healthier fried green tomato recipe.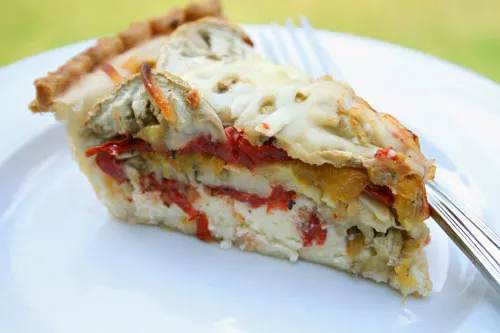 Unfortunately, it was an unbelievably busy week (I was working on a big project, which went live today) and before I knew it, my lovely green heirlooms were ripening. Yea, whoops. So I had to get creative. Using the method from my Slow-Roasted Plum Tomatoes, I drew out the sweetness in the tomatoes in the oven. Then I used the method for roasting the eggplant from Maris' recipe to roast lovely eggplant.
Roasted veggies … yum. I could have easily tossed them with pasta and a spritz of lemon and called it a day. And that would have been absolutely delish. But no, I wanted bigger, better … I wanted pie.
Fortunately, I always keep frozen pie crusts around just in case (what, doesn't everyone?). My fav is the Oronoque Deep Dish crust. It works equally well for sweet apple pies as it does for savory pies like this one.
So, back to the dish at hand … Into a deep pie crust went a thick layer of ricotta, followed by eggplant, tomato and mozzarella … and another layer of eggplant, tomatoes and cheese for posterity.
Seriously, how can you go wrong with that combination? The result was a satisfying dish that my kids loved — they scarfed down bite after bite. And as an added bonus, it reheats really well.
What would you have done with the eggplant and tomatoes?
Tomato and Eggplant Pie Recipe
Ingredients
1 deep dish frozen pie shell
1 cup ricotta
1 large egg
1/2 grated Romano cheese
1 batch roasted tomatoes, click here for the recipe
1 lb eggplant, roasted (use the method mentioned in blog post)
3/4 cup part skim mozzarella cheese
Instructions
Preheat the oven to 375 degrees. Place the frozen pie shell (in its tin) on a baking sheet.
Whisk together the ricotta, egg and Romano until smooth. Spread into the pie shell, making one even layer.
Layer one-half of the tomatoes on top of the ricotta mixture. Then, top with one-half of the eggplant slices (you may have to overlap them slightly). Top with 1/4 cup of mozzarella. Repeat with the remaining tomatoes, eggplant and 1/2 cup of cheese, reserving one tomato slice for the top of the pie.
Bake for 30 minutes. Let sit five to 10 minutes before slicing. Use a really sharp knife to cut into six even slices.