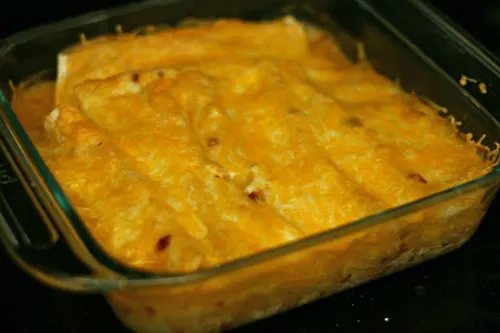 Some issues of magazines are just blow-you-over good.
The 2008 Cookies issue of Fine Cooking is like that. Another 2008 goodie? The November 2008 issue of Everyday Food. I can't tell you how many great recipes I have made from that issue.
These enchiladas are among my favorites — flavorful, creamy, cheesy and spicy.
Want to make them spicier? Double the amount of chipotles in the recipe.
Honestly, my kids are not a fan of these because of the heat they pack … but that's okay. Sometimes just parents can enjoy, right?
I serve these with avocado, sour cream, rice and a big salad. That way everyone has something to enjoy with them … even if the enchiladas are too spicy.
Do you make any dishes that your kids aren't a fan of?
Lighter Chicken Enchiladas
adapted from Everyday Food
Ingredients
2 tbsp olive oil
2 cloves garlic, , minced
1/4 cup all-purpose flour
1 tsp ground cumin
1 tbsp minced canned chipotle pepper in adobo
14 1/2 chicken broth, (that's the size of one can -- I use a box though)
1/2 cup water
8 corn tortillas
1 1/2 lb cooked chicken, (from a roasted chicken, preferably), chopped
1 cup cheddar-jack cheese
Instructions
Preheat oven to 400 degrees. Spray a 8x8 inch square baking pan with cooking oil spray and set aside.
In a medium saucepan, heat the olive oil over medium heat. Add garlic and cook for 1 minute, stirring. Whisk in the flour, cumin and chipotle peppers and cook for 1 minute. Whisk in chicken broth and water. Heat to a boil, then reduce heat to low. Simmer for 5-10 minutes until thickened, whisking occasionally. Remove from heat.
Meanwhile, wrap the tortillas in a damp paper towel and microwave for 1 minute to heat. Set aside.
Spread enough sauce into the bottom of the baking dish to cover lightly. In a medium bowl, toss one cup of sauce with the chicken. Divide the chicken mixture evenly among the tortillas and roll up. Arrange in the baking dish. Top with the remainder of the sauce. Sprinkle with the cheese.
Bake for 15-20 minutes, until the edges begin to brown ever so slightly. Remove from oven and allow to cool for about five minutes before serving.